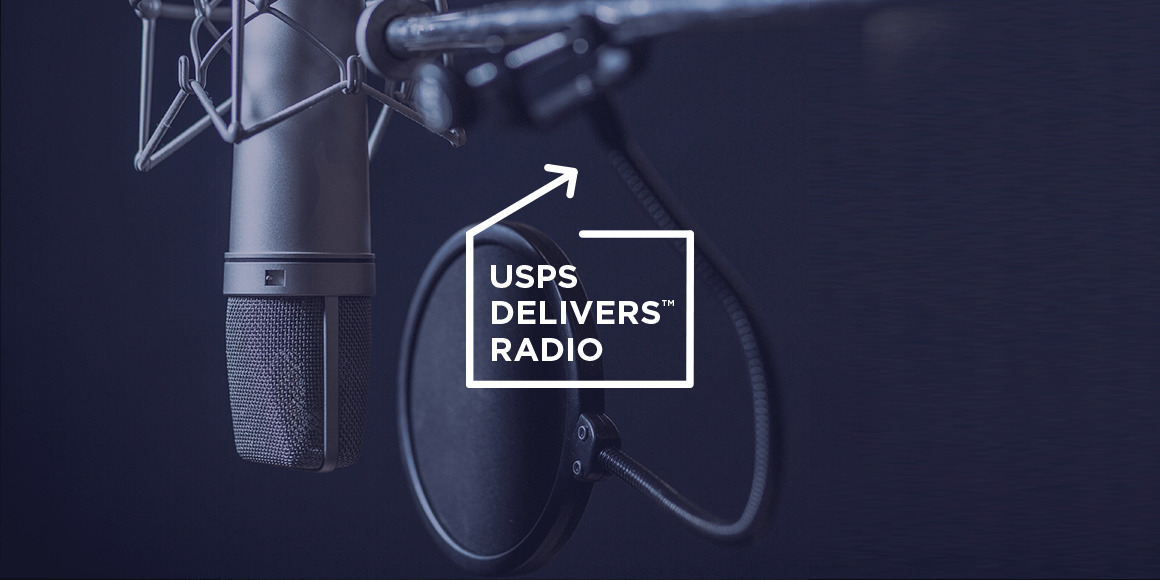 Tune in to learn the benefits of return-data collection and the importance of gathering customer and product-specific data. Then get a big-picture view of what it takes to create a data collection process for your company.
Privacy Act Statement:
Your information will be used to understand the needs of customers and improve USPS sales and marketing efforts. Collection is authorized by 39 U.S.C. 401, 403, and 404. Supplying your information is voluntary, but if not provided, we may not be able to fulfill your request. We do not disclose your information to third parties without your consent, except to act on your behalf or request, or as legally required. This includes the following limited circumstances: to a congressional office on your behalf; to agents or contractors when necessary to fulfill a business function; to a U.S. Postal Service auditor; for law enforcement purposes, to labor organizations as required by applicable law; incident to proceedings involving the Postal Service, to government agencies in connection with decisions as necessary, to agencies and entities for financial matters, and for customer services purposes. For more information regarding our privacy policies visit
www.usps.com/privacypolicy
TRANSCRIPT
RICHARD PAUL: My name is Richard Paul, welcome to USPS Delivers Radio, where we explore the timely shipping and direct marketing topics affecting retailers. Today, we're diving into the world of returns and the role data plays when you're restocking, repairing and reselling products. Turns out there's a lot to be gained when companies analyze returns on a granular level.
Retailers are all too familiar both with the challenges of returns and with the effort that goes into getting a product resold again. According to the National Retail Federation, of the merchandise that was purchased in 2015, 8% was returned. That's $260 billion dollars of products being sent back to companies, and then inspected and then prepared for resale.[1]
There's a technical term for this backwards flow of products. It's called reverse logistics, and it is a complicated knot to untie. Consider the life of a pair of headphones. They start off packaged, shiny and new, but when they're returned they could be sealed and ready to sell.
They could be damaged with a blown woofer that can't play audio and is in need of repairs. Or the headphones could just be a lemon, that can't be resold and needs to be sent to recycling instead.
It turns out, the key to maximizing your product value and minimizing returns comes down to data. The more information a company can collect about a return on a customer and product level—from the reason for the return to the defection—the more it can do to address similar issues in the future and prevent them from occurring.
Of course, collecting gigabytes of data isn't enough to ensure valuable insights. Reading data in context, repairing it continuously and collaborating across teams and vendors is equally important when you're looking to gain a wealth of information.
To help us navigate these many points, we are joined today with Jay Smith of USPS, who's guided companies across the country on this very topic. Jay, thanks for being here.
JAY SMITH: Thank you, Richard.
RICHARD PAUL: So, what's your feeling? Did I state the problems and most of the solutions correctly?
JAY SMITH: Yes, I think you stated it very correctly. Richard, capturing data can make a lasting impact on your returns process and your returns rates. Starting a data collection process or improving the one you have is important.
The first benefit to collecting data is improving repair yield.[2] If you know what went wrong with your returns, you can prepare your repair staff or repair vendor to be ready to address the issues.
The second benefit of collecting data is improving and testing your repair processes.[3] The more information you have about malfunctions and why customers make their returns, the more you can leverage to improve how you test, maybe how you repair and how you update your product.
RICHARD PAUL: Is there anything else?
JAY SMITH: Yes, I'd say, lastly, the third benefit of collecting data—improving out-of-box failures. Returns data comes chock full of lessons that can be leveraged to prevent issues in the future. [4]
RICHARD PAUL: It's fair to say that these concepts like "repair yield" and "out-of-box failures", these concepts work across other product categories.
I mean, you may not be selling state-of-the-art electronics; you might be selling jewelry or home décor. What's important to understand here is that you can take your returns information and use it to improve what you're selling and also how it's made. And that you can use that returns information to improve how it's tested and how it's repaired.
So, let's talk about data. When a company is going to design a returns data process – I don't imagine that they just gather a lot of random information. It should probably be specific. What kinds of information should they be gathering?
JAY SMITH: From my experience, gathering a lot of data doesn't necessarily ensure you're going to have a wealth of insights. You must collect the correct data and it must be clearly defined. A retailer should look to have customer and product-specific returns data.
For customer data, you want to know the reasons for returns down to the smallest detail.
RICHARD PAUL: Like what? What do you mean by smallest detail?
JAY SMITH: For example, if you're an apparel retailer, you want to know issues with fit, size, color, why customers are dissatisfied with a product in any way.
This will help you pinpoint if the issue is unique to that one purchase or if this is becoming a growing trend.
RICHARD PAUL: I see.
JAY SMITH: When it comes to product-specific data, you want to know about damage, if applicable.
You also want to know what your products are made of. Work with your manufacturers to help you gather information about the parts and the ingredients used to make those products that your company is selling.
Have a healthy working relationship with your manufacturer with clear lines of communication. Together, you can assess the strengths and weaknesses of a product and even help to improve it.
RICHARD PAUL: Now companies will sometimes generate information directly from customers.  That's what returns questionnaires are for. So, with those is it enough to just ask, I don't know – "why didn't you like this thing?"
JAY SMITH: No, no. A lot of the customers that I've worked with in the past use a return slip or a return merchandise authorization process to help the customer provide you with the data you specifically need.
RICHARD PAUL: You've just mentioned a returns merchandise authorization process. What would that kind of process look like? How do you create a good one that gets you the information that you need?
JAY SMITH:  A good process is going to clearly define the data you want to collect. This will help prevent your company and your employees from collecting too much useless information.
RICHARD PAUL: It would probably be helpful if you could touch on what companies can do to make sure that what they're gathering is useful?
JAY SMITH:  The data gathering should be routine. Data maintenance is important.
RICHARD PAUL: How do we go about doing that?
JAY SMITH:  Well, you should have employees that manage that process and check the data that is collected is complete and up-to-date. Having the most recent return data allows a retailer to gather insights with precision and make business-driving decisions with confidence.
RICHARD PAUL: So, if we look at this big-picture, companies should be working both with the information they gather themselves and the data that they capture from repair providers and manufacturers. I've heard this is called an ecosystem of returns data?
JAY SMITH: Yes, the better you analyze and repair the data within its ecosystem, the better a retailer can tackle the biggest returns challenges. It's important to continuously scrub the information you gather for errors. [5]
By chronicling which data is incomplete, incorrect or out-of-date, retailers can address the cause of each data error. Otherwise, you would begin making business decisions about products that are completely unfounded. Your data problems must be addressed before you use that information to determine any insights.
Prioritize using the most up-to-date technology to ensure that employees and partners are collecting data in the most optimal way. Finally, provide oversight: do routine check-ups on the quality of the data gathered and the data gathering methods themselves. Better yet, ask your employees to do the same.
RICHARD PAUL: I want to talk a little bit about the human side of this, because that's obviously important too. We know that good data gathering methods are an important part of a healthy returns data ecosystem. But what about the people? What role do they play in the quality of the returns data you gather and the insights that you develop for your business.
JAY SMITH: This ecosystem is comprised of so many people – those who work within the company who touch the returns data and those externally: maybe repair vendors and manufacturers.
By working together across department and company lines, a retailer can help gather data they need to improve their returns process. No matter the size of the company, data shouldn't be relegated to one business silo. Of course, that's easier said than done.
RICHARD PAUL: How might a company go about doing that? Are there tools or is it just about sending memos and so forth?
JAY SMITH: From my experience, make sharing returns-related information a company-wide initiative. Have multiple team members invested in gathering returns data. This will help you catch flaws quicker, kind of more eyes on the process.
Good data will give you quality insights about the products that are being returned. To prevent returns as a whole, you must align with your team members, those who handle returns information and maybe marketing and analytics, for example.
RICHARD PAUL: I imagine it's really important to have everybody on board, right?
JAY SMITH: It is important to have good communication in place to ensure that you're collecting and analyzing the returns data in the best possible way. You must establish a schedule of meetings and milestones that will keep your teams continuously analyzing data and the way you collect it.
The more visibility your process has, the better chance you have of finding problematic products, trends in customer dissatisfaction, solutions for improving product quality, and, ultimately, return rates.
RICHARD PAUL: I imagine all these insights are coming from years on the job. Can you talk more about your experience helping companies to navigate returns data?
JAY SMITH: Absolutely. Over the last 20 years of working with customers in reverse logistics, I've had the opportunity to observe and make recommendations based on their business models. From typewriter repair companies to the world's largest online retailing companies. It begins with pre-sales process and setting them up with a returns program.
What is the returns program they want to have with their customers or, better yet, what is the returns process they want their customers to have with them? Are returns merely an expense? Or is the return program an opportunity to give customers convenient options to do business with you?
Most importantly, how can they use their returns data to pinpoint product defects, fulfillment defects or develop a customer obsession with your products, resulting in repeat purchases and increased revenues.
RICHARD PAUL: So, what kind of solutions does the USPS offer for returns?
JAY SMITH: Thanks for asking, Richard. The Postal Service prides themselves on their mission to provide universal products to our customers. We offer returns solutions that cross all market segments, from a customer that walks into their local Post Office once or twice a year with a return, to the largest ecommerce marketplace platforms that generate millions of packages a month.
RICHARD PAUL: So, it goes all the way from the smallest all the way up to the largest.
JAY SMITH: Absolutely. And depending on the urgency of the customer's needs for the returns or their strategy, we offer both ground and expedited return solutions, which in turn gives the Postal Service the flexibility to develop the appropriate return solution, as well as align the most cost-effective pricing options based on that customer's needs and their shipping profile.
Lastly, USPS returns help our customers create that customer-centric approach to their returns programs. We offer API web tools that give your customers the ability to create labels, order free packaging, learn about the locations and hours of their local post offices or USPS collection boxes so they can easily tend to those returns. As well as, hey if you have customers that don't want to leave their home or their business, schedule a free carrier pick-up.
If you combine all those value-adds with USPS tracking, which provides visibility to both your customer call center and your customers, that provides the confidence they need to know their package, hey, it's on its way back safely. USPS tracking can also give customers to refund a customer as soon as we capture a scan, which helps with the repeat business.
And imagine your warehouse managers out there who would like to know how many returns they have in the process that are coming back in that need to be processed. So, from the customer who returns one to two packages per year, to the largest retail and ecommerce customers, the United States Postal Service has a return solution to meet the unique needs.
RICHARD PAUL: Well, Jay, thank you so much. The world of returns can be difficult to navigate, that is a well-known truth. Return rates are intrinsically linked to a network of internal departments as well as external partners and manufacturers. The people and returns data that live within this ecosystem have the power to affect change – to make products that satisfy customer needs and lower return rates. It takes initiative. It takes a little elbow grease, but that's what distinguishes a good retailer from a great one.  You've been listening to USPS Delivers Radio.