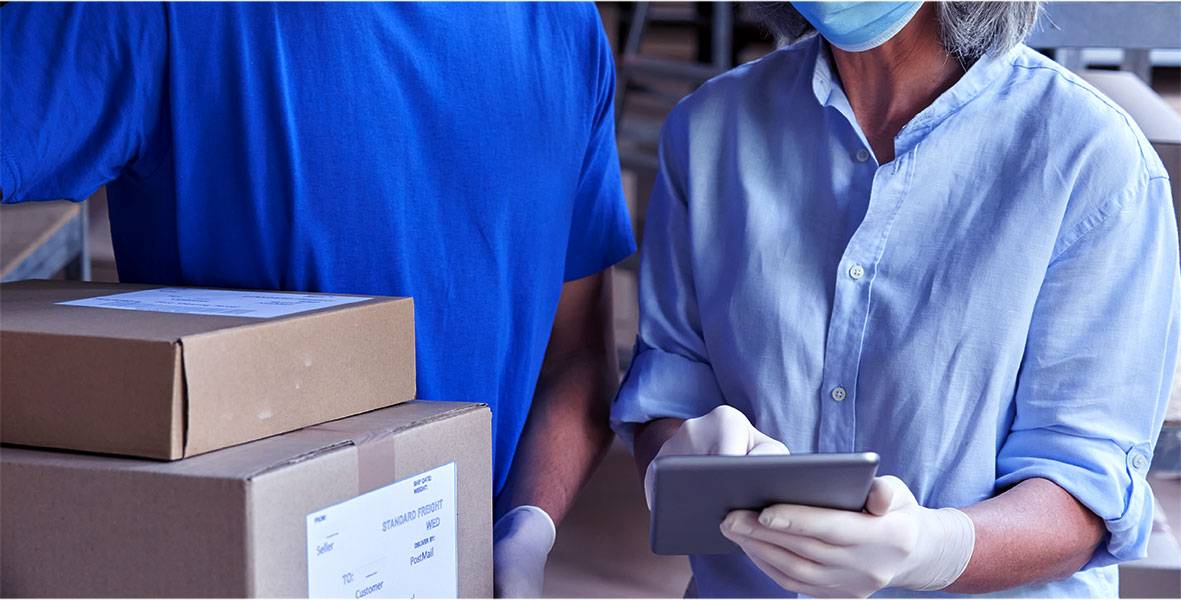 While strong sales are the backbone of a retail or e-commerce business, inventory management can mean the difference between success or failure. Mismanaging your inventory can lead to errors in stock levels, poor quality control and wasted storage space. These problems can quickly percolate and affect your shipping operations; they can slow picking and packing, even cause you to ship incorrect or damaged goods. Keep your business on track by implementing a few important best practices for inventory management.
1. Categorize Your Inventory
Bring order to your warehouse and add efficiency to your picking process by choosing a way to categorize your products. This will make it easier and faster for you to locate and pull items from your shelves. There are a few common systems companies use. One is called ABC, which groups products by their value, with A being the most valuable items and C being the least valuable. A numerical system takes a different approach by allotting numbers for product classes, individual products and their location in the storage facility.
2. Establish Minimum Stock Threshold Limits
The minimum stock threshold is the least amount of inventory you need on your shelves at all times. By determining your threshold limits, you can ensure you have safety stock ready to answer a sudden influx of sales. This allows you to meet demand and curb lengthy fulfillment times, which would only upset customers.
Use this formula to calculate your limits:
Minimum Stock Level = Reorder Level – (Normal Consumption Per Day or Per Week x Normal Delivery Time)[1]
3. Implement Frequent Quality Control Checks
Keeping an eye on your product quality can help prevent customer satisfaction issues and lower return rates. By keeping returns down, your company can maintain its margins. Do routine checks of your inventory to search for signs of damage. Look for discrepancies in prices and product descriptions; product sizes, colors and styles should be accurate. That way you catch any issues before they hit your customer's front door.
4. Implement Stock Check Cycles
Cycle counting programs help you gauge the accuracy of your inventory levels by auditing a small sample of products on a routine basis. That way, you don't need to spend time checking all your inventory all the time. Decide how often you'd like to do cycle counts. Some businesses take a periodic weekly or monthly approach, others do it randomly throughout the year.
Surges in panic buying during recent times of uncertainty have wreaked havoc on stock levels. Shippers say forward thinking and honest communication with their customers have helped tremendously.[2] But routine double-checking can also help mitigate this issue. Stay vigilant about your inventory counts to maintain stock visibility. Without accurate stock information, your customers could place orders that can't be filled.
5. Liquidate Slow-Moving Stock
By doing routine checks of your inventory, you can stay abreast of product sell-through rates. Save your company dollars and storage space by liquidating the products that aren't moving off the shelves. Bring new products into the fold with similar characteristics to your biggest sellers.
6. Build a More Robust Technology Stack
With today's stresses on the supply chain, it's never been more important to have a unified, real-time view across all aspects of your inventory. Upgrading to modern inventory visibility tools can ensure greater accuracy, improve logistics efficiency and save on costs—ultimately enhancing the customer experience.[3]
Key Takeaway
With a few simple steps, any size business can elevate its inventory process. By categorizing your inventory, deciding minimum threshold limits, upgrading inventory visibility tools, and more, your business could see a wide range of positive effects. With a well-run management process, you could add efficiencies to your shipping operations, shorten fulfillment times, lower return rates, improve your customer service and, of course, boost your bottom line.
Footnotes
[1]

True Tamplin, BSc, CEPF®, "Minimum Stock Level: Definition and Explanation " Finance Strategists, Sept. 17, 2021.

[2]

Survey sample from "National Survey of U.S. Expedited Cargo," The Colography Group, May–June 2021.