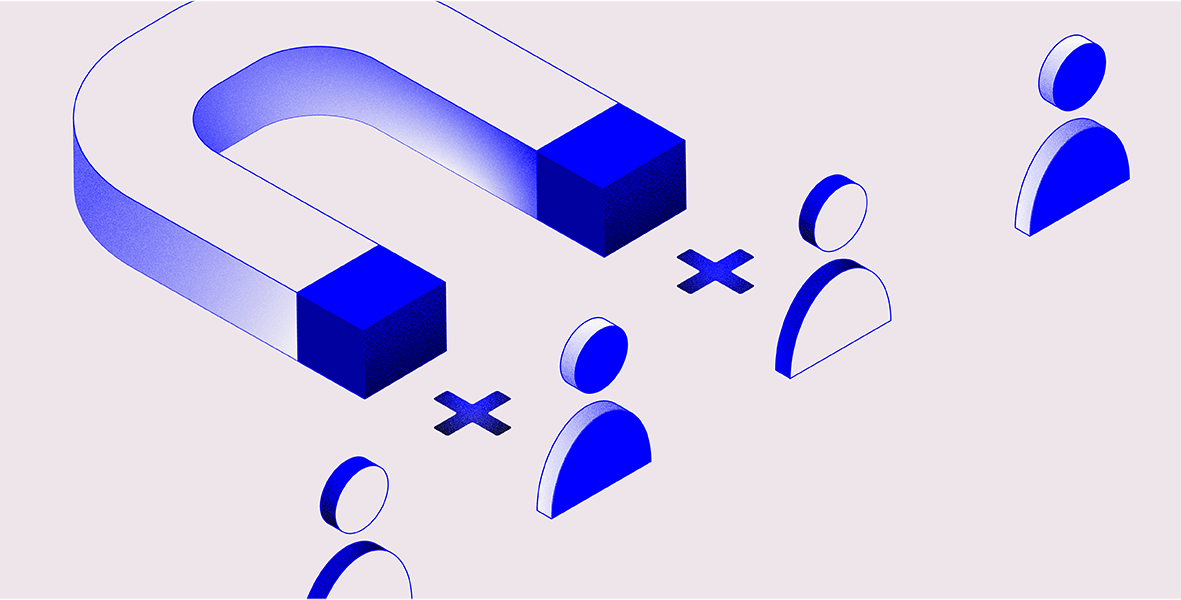 The B2B market has shifted. The buyer, once beholden to a company's sales team for all information, is now much more independent. Thanks to the internet, today's B2B buyer does their own research, reading company websites, social media and thought leadership articles to gain the insights they need.
The pressure is now on the B2B marketer to hook this audience and reel it in. Luckily, there are strategic solutions available for this very problem. Read on to learn seven tactics you can incorporate into your B2B marketing strategy to help convert customers and drive sales.
Want an in-depth look into the B2B buyer? Dive into our white paper "7 Customer-Centric Trends in the B2B Space."
1. Account-Based Marketing
This strategy can help you attract B2B buyers for your business by concentrating marketing resources on a specifically defined set of target accounts. This allows you to launch personalized campaigns centered on their unique interests and needs.
Gartner® predicted that by the end of 2020, more than 70% of B2B marketers at midsize to large organizations would have either piloted or launched full-scale account-based marketing (ABM) programs to target and engage buyers.[1]
2. Social Media
Social media can be a boon for B2B businesses, even those offering high technical or niche products or services. Unlike retail or e-commerce, B2B businesses should see social media as a top-of-funnel tactic that builds brand awareness.
83% of B2B marketers use social advertising, and it's second only to search engines in terms of success.[2]
3. Content Marketing
With content marketing, businesses can promote themselves through thought leadership, capturing leads in the process. Show credibility and authority in your industry by creating digital content—whether it be articles, white papers or infographics—that is informative and snackable. A thoughtful lead generation strategy can help bring in the audience you're seeking.
80% of B2B marketers say content marketing raises brand awareness, 75% say it builds credibility and trust, and 70% say it educates audiences.[3]
4. Gamification
Gamification uses games or gamelike elements to make marketing and business initiatives more exciting, interactive and memorable. Loyalty programs in which customers collect points; digital channels that allow users to reap rewards based on engagement; and playful, interactive calls to action are a few examples of gamification. All of these can help set your brand apart from the competition.
5. Retargeting
Retargeting has long been a popular digital marketing tactic. But with one leading internet search engine's efforts to phase out third-party cookies on their browsers[4], you may soon need new ways to effectively identify, track and target your audience.
However, keep in mind that not all cookies will be banned as a result—only the third-party cookie on its browsers.[5] First-party cookies that track basic data about your own site's visitors can remain in use.[6] Moving forward, some marketers may look for ways to make better use of this first-party data, learning more about their ideal customer and their habits and preferences, then using those insights to connect with the right prospects.[7]
Other alternatives include contextual advertising, which allows marketers to run pay-per-click ads on websites that rank for keywords similar to those used in your ad.[8]
6. Micro-Moment Marketing
Micro-moments are the fleeting periods throughout the B2B buyer's journey that inform their decision-making and shape their preferences. Today, that journey is meandering and fractured, and micro-moments can occur whenever users turn to their phones, acting on an impulse to learn, do, watch or buy something. Optimize your marketing to be relevant and mobile-friendly in order to capitalize.
7. Direct Mail
While social media advertising and search engine optimization (SEO) are great for building awareness early in the buyer's journey, they're less effective at generating transactions. Direct mail can do both.
At the top of the marketing funnel, direct mail captures interest. At the bottom, it's a catalyst that prompts audiences to take action. A survey of 600 marketers found that branded, personalized direct mail is the most effective channel for reaching target audiences.[9]
Between 2006 and 2020, mail volume declined by nearly 50%—but direct mail response rates skyrocketed 173% for house lists and 194% for prospect lists.[10]
Which marketing tactic have you not yet tried to target B2B buyers?
Key Takeaway
Though the B2B buyer may be changing, marketers have more ways than ever to reel in these clients. Whether you choose to leverage content marketing or social media, the tactics mentioned above can help you better target your B2B buyers.
Looking to learn more about these tactics and how they can fit into your brand's B2B marketing strategy? Dive into our white paper "7 Customer-Centric Trends in the B2B Space."