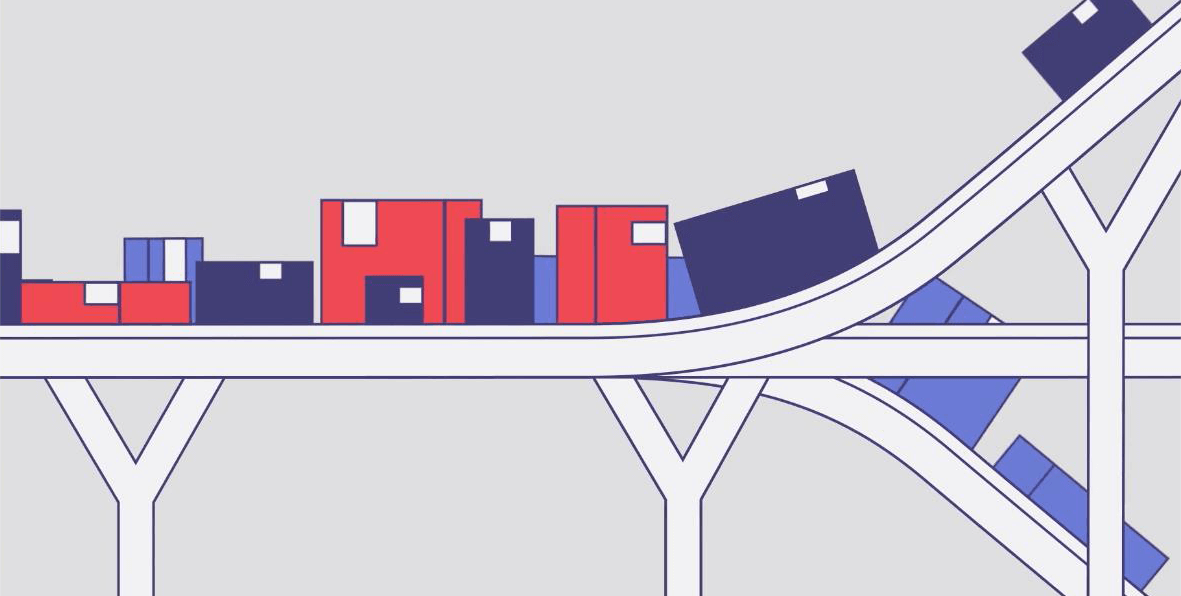 As COVID-19 continues to change the face of shipping and logistics, many wholesale shippers are being forced to reassess the way they do business—servicing customers directly rather than distributing product in bulk to retail locations.
Shift Seamlessly from Wholesale to DTC
A few easy adjustments can help wholesale shippers rework their shipping and warehouse processes for direct-to-consumer (DTC) fulfillment. Dive into the expert tips below to get started.
1. Examine Your Fulfillment Process
First, map out your current "pick and pack" process to assess what you'll need to alter in order to adapt to a DTC model.
DTC fulfillment typically presents three key challenges:
Manually retrieving, validating and creating smaller orders with efficiency
Reducing the time it takes to pick product and pack each order
Using multiple systems to create labels and handle paperwork
Keep each of these in mind as you analyze your current processes. Consider how quickly you're picking and packing orders now and how an increase in smaller DTC orders may change timelines. Remember that orders will likely be coming in with much more frequency—often with just one or two items per order.
Thinking down the line, you'll also need to consider how often you will need to replenish stock, and how you will track inventory and orders in real time. And if you'll be working with more retailers in the future, you'll need to keep up with the higher volume of product coming in.
2. Analyze Your Warehouse Space
Carefully assess your current warehouse space. Where will DTC fulfillment processes take place, and what needs to be rearranged or reworked? Your overall warehouse layout will likely need to be updated—and perhaps expanded—to meet the unique needs of a DTC model.
If you'll be handling both wholesale and DTC orders, it's probably a good idea to create a separate section for each, keeping in mind that you may need even more space for DTC in the future.

Also, consider how you can most safely and logically lay out your warehouse to avoid traffic jams and bottlenecks. You'll probably be using bins and shelves more often than pallets and forklifts now, so creating a space-saving but easy-to-navigate layout will be paramount.
The layout of your warehouse can play a major role in the overall efficiency of your distribution process. Examine layout options closely to see which will best minimize waste and inefficiencies. There are even some software solutions that can help you create the best layout for your needs.
3. Assess Your Software Options
Make sure your inventory management systems and software can handle individual shipments. Most DTC shippers make use of warehouse management software (WMS) or third-party logistics (3PL) warehouse management software.
Today's software solutions can automate billing and fulfillment, as well as provide clients with a dedicated portal to view inventory and product. Single-single orders—which have just one line, with one item on that line—can also be easily identified and separated from multi-item orders for quicker processing.
With application programming interfaces (API) and various plug-and-play options, you can sync clients' information on orders, product and inventory to third-party e-commerce platforms. You can also integrate with shipping carriers, which can provide greater transparency and ease of use. This can be especially helpful as you begin to work with more retailers.
Automated storage and retrieval systems (AS/RS) may also be useful when switching to DTC fulfillment. These systems place and retrieve stock automatically, ensuring accuracy and reducing the need for manual picking and replenishing. As a result, employee time can be better allocated to more complex or pressing tasks.
4. Establish Inventory Zones
Map out your warehouse space, creating distinct zones to stock on-hand inventory. Keeping frequently picked items easily accessible can speed up the entire shipping process while helping to ensure that employees can work as efficiently as possible.
Using the simple ABC classification method can help you map out warehouse space for optimal efficiency, dedicating the most space to the products most important to your bottom line:

A-level items, which generate about 70% of profit, should be kept in very accessible zones, allowing for quick, easy picking. B-level items, generating approximately 20% of profit, should be available in zones fairly accessible to workers. And C-level items, which bring in about 10% of profit, can be stored in less handy areas.
The "first-in-first-out" rule—in other words, shipping out older stock first—may also come into play, especially if you have product with a short shelf life. With this method, older stock should be made easily accessible for picking.
The right software system can provide further flexibility. For example, some systems allow you to define different zones with different processes in place for each one. Then, you can assign specific workers to those predefined zones and processes.
5. Create Dedicated Shipping Stations
Set up dedicated shipping stations for your workers, with necessary tools and supplies easily at hand—tape, scissors, packages, envelopes, void fill materials, etc. Keep a running list of these items so you know how much you have on hand and when you'll need to reorder.
Make sure there's enough room for employees to work and keep the space clear of debris. You may want to mark surfaces with measurements so it's quick and easy for staff to determine package sizes or accurately cut needed materials.
Even if your shipping process is straightforward, it's helpful to establish an operational flow to ensure everyone stays on track. Creating a simple flow chart to be displayed above the shipping station can help workers visualize and remember each step.
Finally, create a designated space for any packages ready to be sent out—someplace easily accessible from the shipping station, so employees don't waste time going back and forth.
6. Train Your Staff
To help ensure your staff has the skillset needed to efficiently fulfill online orders, comprehensive training is crucial.

First, lead workers through the picking process; this will depend on warehouse layout, inventory zoning and any software you're using. Walk them through the process step by step, whether remotely or in-person. Then move on to packing. Although the process may be simple, it's always helpful to give a quick demo and provide a space for any questions or suggestions, such as a bulletin board or digital comment box.
When covering the shipping process, make sure all employees are well versed on every step, and account for your carrier's pickup times. To reduce error, staff should check off each step as they go, before actually sending out shipments.
Creating helpful reference materials like booklets, posters and printouts can be useful for keeping workers on track. And remember: Shifting from wholesale to DTC can be taxing, both mentally and physically. Make sure you acknowledge this and show your appreciation for employees' efforts.
7. Monitor Your Warehouse
Once you've established your strategies for transitioning to a DTC model, it's important to conduct regular warehouse audits, identifying areas for process improvements and monitoring inventory levels to increase efficiency.
Audits may be conducted by an internal or external auditor, or by your warehouse team; the key is to remain as objective as possible.
You can use a simple checklist to help you evaluate:
Layout — Is space being used efficiently?
Equipment and tech — Ensure all equipment is in good working order. Are tech and software meeting your needs and helping you reach your goals?
Safety — Do you have a comprehensive safety policy in place?
Maintenance — Are workspaces cleaned and sanitized regularly?
Performance — Thinking big-picture about warehouse operations, how can you start outlining next steps?
Regular audits will also help provide you with valuable data on the efficiency of your DTC shipping processes and operations; this data can then be used to identify patterns, highlight errors and waste, and determine what's working and what's not.
Key Takeaway
COVID-19 has changed the face of shipping and will likely continue to do so in the months ahead, prompting many shippers to transition from a wholesale fulfillment model to direct-to-consumer.
Shifting gears and adapting current processes will take time and patience—and possibly require some upfront investments—but the rewards can make it well worth the effort, allowing you to stay competitive when it matters most.
As you continue to future-proof your shipping strategy, reference the seven steps above to help you get where you need to be.