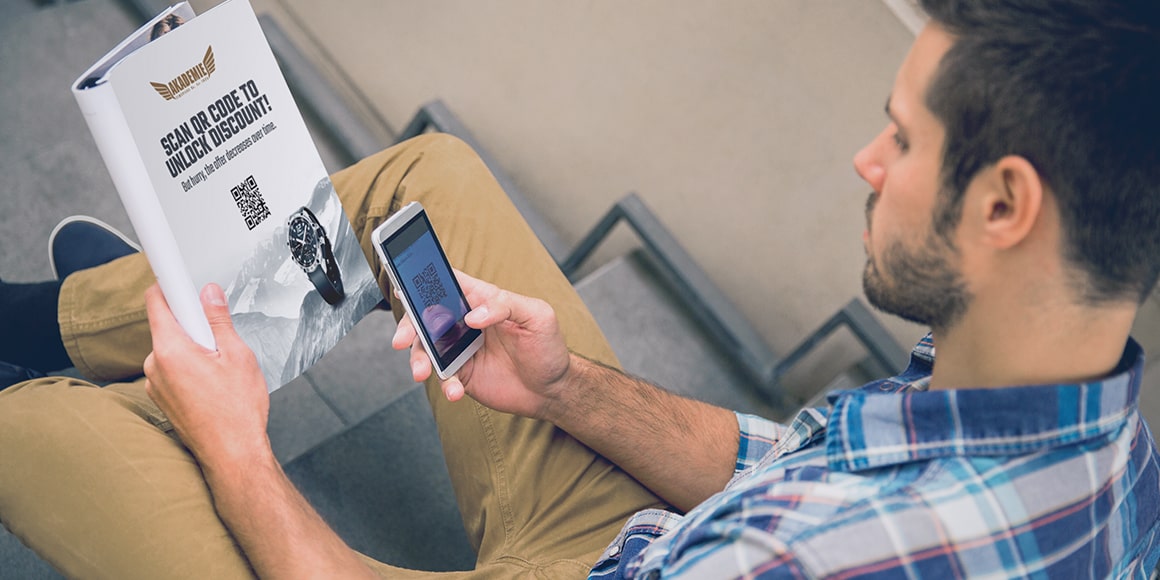 Print has proven time and again to play an integral role in marketing. While digital ads are ever present, a U.S Postal Service® survey showed that 92% of households report having a strong attachment to mail and even look forward to receiving mail each day.[1] Catalogs especially are known to have positive associations, improve brand recall, and drive customers to a brand's website. The challenge is standing out from competitors.
Engagement and brand storytelling are essential in creating memorable catalogs, and technology can add new dimension to an already popular and successful marketing tool. Read on to learn about four ways to elevate your next catalog campaign.
Augmented Reality
Augmented Reality (AR) technology seamlessly combines the digital and physical worlds to provide your customers with an interactive experience that's exciting and unexpected. Utilizing this technology has been proven by one study to increase the likelihood of a purchase up to 88%.[2]
AR layers digital graphics over your customer's surroundings. Incorporate a visual trigger into your catalog for your customers to activate with a smartphone camera. Then they'll see your product come to life in any way you imagine.
Virtual Reality
Virtual Reality (VR) is another game changer. Now your catalogs can deliver a message that comes to life before your customer's eyes, right from their living room. Proven to revolutionize the shopping experience, the VR industry is expected to become a $10-15 billion market by 2022.[3]
Utilizing this technology and including a mailable headset in your catalog gives your customers everything they need to see your products in a whole new light.
Video-Enhanced Print
Video content is versatile and delivers your message instantly. You can incorporate this technology in your catalogs in several ways: embed a paper-thin screen into a mailpiece, direct customers to dynamic digital content or have your visuals come alive right on the page with video-enhanced print.
One simple way to incorporate this technology is through a QR code®.[4] Launch digital content from your catalog with a QR code® that leads customers to time-sensitive promotions or your online shop. Catalogs with video-enhanced print can help mesmerize your audience and increase your product awareness.
Near Field Communication
Near Field Communication (NFC) is the new frontier of wireless technology. There are many exciting ways to use this technology that bridge a physical catalog with the digital world.
NFC tags–usually an embedded microchip in a sticker or a product label–can launch tailored digital content on an NFC-capable mobile device with short-range radio wave. With a tap or a wave of the smartphone, your customers can seamlessly connect to your brand online.
In Conclusion
Reinvent your catalog marketing with technology. Tell your brand story and immerse your customers in what your business has to offer with these innovative digital additions. Incorporate technology for richer customer experiences and potentially larger returns for your company.