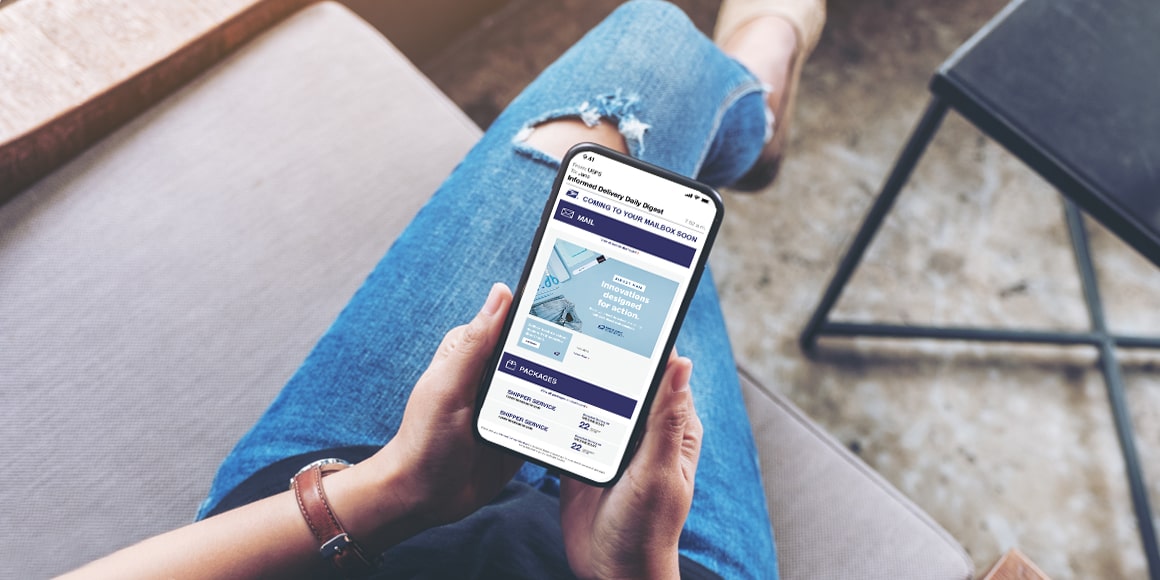 With the USPS® Informed Delivery feature, businesses can easily connect the physical and digital worlds, allowing consumers to see what will be arriving in their mailbox through the Informed Delivery dashboard or email notifications.
Through these channels, users can also access digital content that complements your mailpiece. Whether this content includes promotions or interactive experiences, consumers can engage easily from a mobile device, laptop or desktop computer.
Let's explore the process from start to finish to see how you can put Informed Delivery campaigns into action.
The Informed Delivery Feature, Step‑by‑Step
1
Your business creates a direct mail campaign.
2
You provide USPS with the ride-along content you wish to include in your Informed Delivery campaign.
"Ride-along content" refers to complementary content associated with your mailpiece, such as a promotion or newsletter sign-up.
3
You send out the direct mail to your targeted list of consumers.
4
Any recipients signed up for the Informed Delivery feature will be alerted of the incoming mail. They're able to see a digital preview of the letters in their mailbox that day, plus any ride-along content.[1]
45% of Informed Delivery users responding to a survey said they act on digital promotions distributed via Informed Delivery notifications and other digital channels more than once a month.[2]
5
The recipient clicks on the ride-along content, which lives below the preview of your mailpiece.
6
The recipient returns home to open the direct mailpiece in their mailbox.
In a survey of users utilizing the Informed Delivery feature, 92% said they view notifications every day or almost every day.[3]
Is your business looking for ways to create more customer touchpoints?
Make an Impression—Three Times Over
The Informed Delivery feature gives businesses three opportunities to connect with consumers—and, ultimately, convert them into loyal customers.
First Touch
The consumer checks the Informed Delivery email or dashboard, and views the preview image of their mailpiece.
Second Touch
The consumer interacts with the ride-along content—whether a link to an exclusive discount or an event sign-up.
Third Touch
The consumer opens the physical mailpiece at home and responds to any included offers.
Key Takeaway
By combining physical mail with engaging digital content, Informed Delivery campaigns help keep your brand top of mind, driving customer action when it matters most.
Learn more about the Informed Delivery feature at the Informed Delivery for Business Mailers web page
Footnotes
[1]

Exterior images are only provided for letter-size mailpieces that are processed through USPS' automated equipment. Package tracking information on Priority Mail®, Priority Mail Express® and other trackable parcels is also provided.