The United States Postal Service's new Informed Delivery® feature allows organizations to connect their hardcopy mail and digital marketing strategies by providing users with a preview of their mail before it arrives — viewable via USPS® mobile app, email notification or online dashboard.[1] This coordinated, double impression allows users to interact with digital content associated with their mailpiece. As a result, the Informed Delivery feature provides businesses with the opportunity to further showcase their well-designed mailpieces by expanding the reach of their mailing campaign.[2]
The Informed Delivery feature also provides mailers with valuable data, such as email open rates and click-through rates. This data appears in reports that allow businesses to evaluate the success of their campaign and root their decisions in metrics.
[3]
Read on to learn more about supplemental content and find out how a real company has used this innovative feature.
Using Supplemental Content
Informed Delivery users can view a grayscale image of the exterior, address side of their letter-size mailpieces.
[4]
At a minimum, organizations conducting an Informed Delivery interactive campaign are required to include a ride-along image and target URL to accompany this grayscale image. This supplemental content makes a campaign interactive and helps businesses enhance their call-to-action by providing consumers with an additional, digital impression. Following the best practices below can help make campaigns more effective by driving user action
[5]
:
Sync the design of the ride-along image with the mail piece and grayscale image to maintain consistency.
Treat the ride-along image as a branded, clickable button with a strong call-to-action, such as "Click Here" or "Sign-up Today."
Include a target URL that takes the user to a website or social media platform.
See our Campaign Image Requirements document on our Informed Delivery for Business Mailers website for image specifications.
Mailers also have the opportunity to enhance their Informed Delivery campaign by replacing the grayscale image with an
optional
, full-color image known as a representative image. Mailers conducting campaigns on flat-size pieces, such as periodicals or catalogues, are
required
to use a representative image as images of flats are not captured or presented to users.
How One Company Used Supplemental Content
Ride-along Image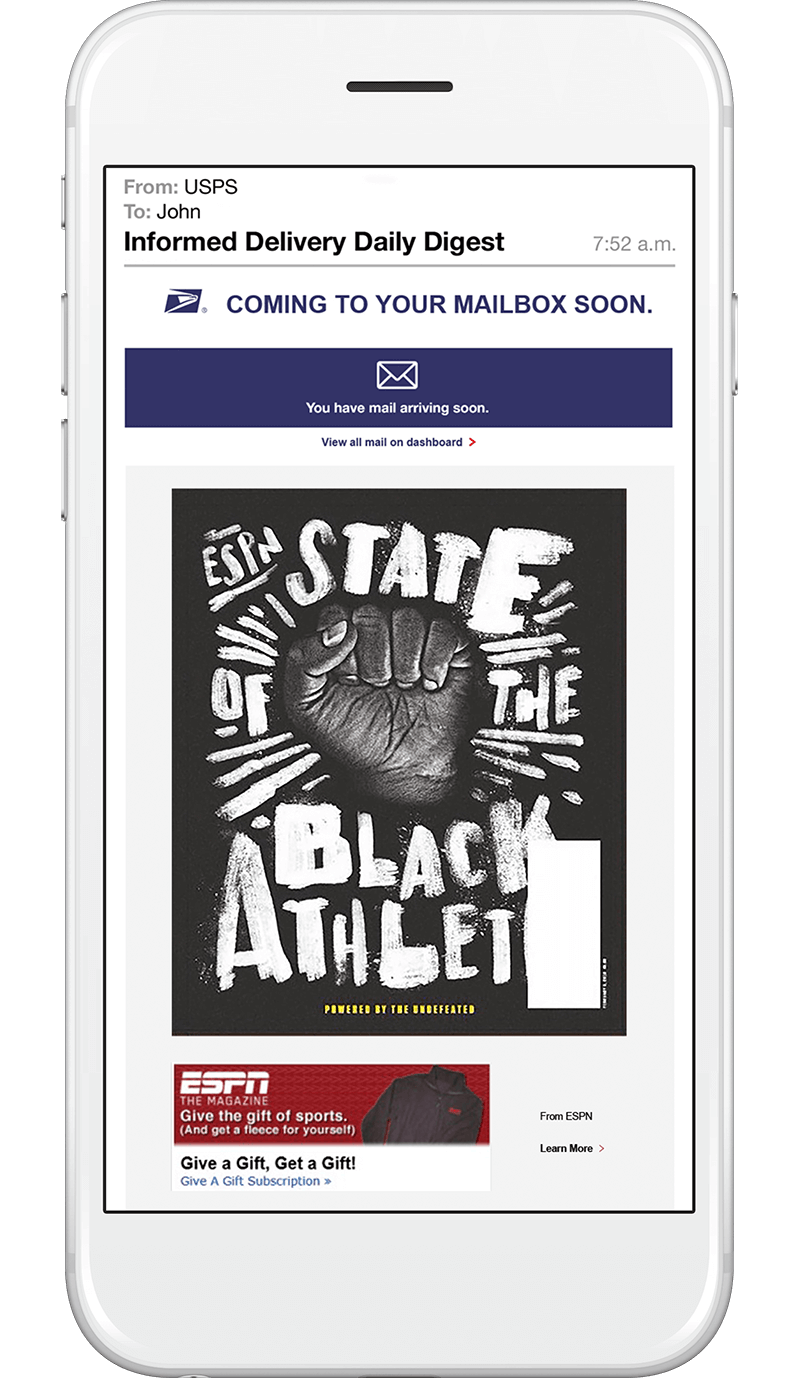 ESPN was one of the very first mailers to test Informed Delivery interactive campaigns with the USPS. For each periodical they mailed, they conducted an Informed Delivery interactive campaign by providing USPS a color copy of the front cover of their magazine to use as a representative image. The ride-along image demonstrates how supplemental content can strengthen a campaign's call-to-action; the image prompts users to give a gift subscription. This ride-along image uses the design best practices outlined on the site linked above to encourage users to take a desired action. Additionally, the representative image gives subscribers a preview of the magazine arriving soon. ESPN's Informed Delivery campaign enabled the company to connect and engage with subscribers in new, innovative ways.
In Summary
Hardcopy mail and digital marketing strategies should not stand alone. Informed Delivery bridges the gap between the physical and digital worlds to create an innovative experience for consumers. This feature allows businesses to reach their customers in a new way that aligns with today's increasingly digital environment.