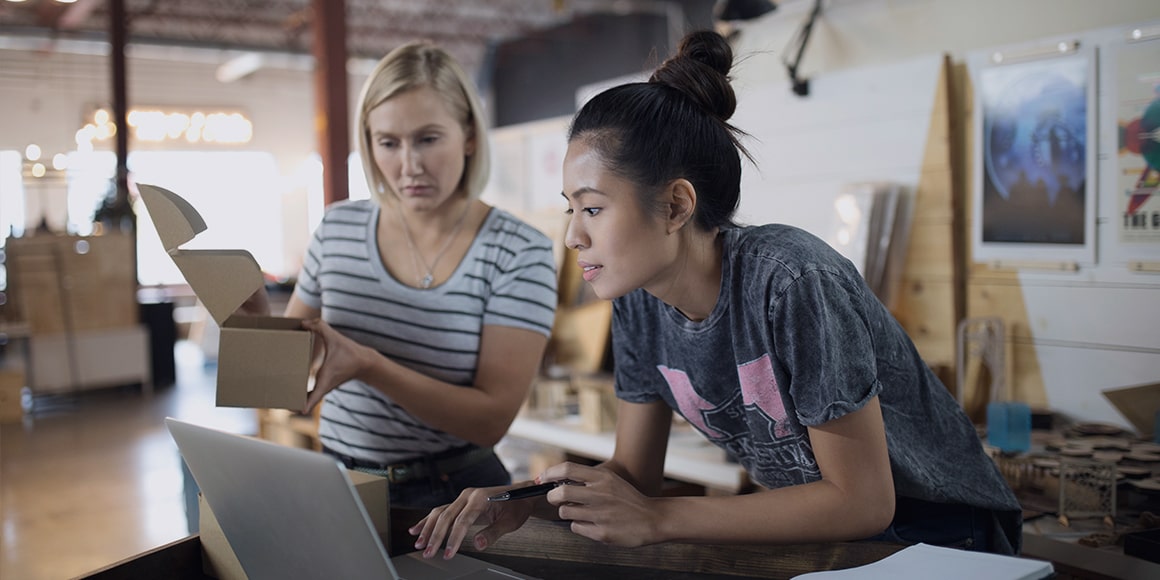 More and more store owners are turning to a ship-from-store fulfillment strategy, leveraging in-store inventory and shipping directly from their retail locations. There are many potential benefits to this method: fewer markdowns, improved asset utilization and, with stores shipping to nearby customers, lower costs and quicker delivery times. But it takes detailed planning and effort to make the transition seamlessly. Here, we take you through the five all-important steps to turning your stores into effective distribution centers.
Make Your Inventory Status Transparent 1
Creating system-wide inventory visibility is the first step to implementing in-store fulfillment. This will allow you to have the right product available in the right locations at the right time. Assess your current inventory management system and make sure it can track and reallocate products when needed. If you have multiple systems in place across stores and distribution centers, integrate your inventory management to ensure that your inventory is visible across channels. This is essential for managing consumer demand and keeping orders moving efficiently.
Define Which Stores Will Turn Into Distribution Centers 2
Next, you'll have to choose which stores will double as fulfillment centers. This is critical to success. It's important to note: not all of your physical locations need to answer your fulfillment needs. Focus on converting larger stores that have both the backroom space and a sizable amount of inventory. This will ensure that there's enough supply in stock and enough space to manage it. Also consider the locations of the stores. Use data from past sales to see which regions order the most and could benefit from having a fulfillment center nearby. Fulfilling orders from a store in proximity to a large number of customers means shorter delivery times and lower-cost deliveries.
Choose stores that also have inventory-management technology that will allow you to catalog products correctly and have orders fulfilled in a timely way. Be sure at least one of your stores fulfills these characteristics before starting to ship from store.
Organize Your In-Store Distribution Center 3
Typical distribution centers have streamlined processes in place for picking, packing and shipping. Mirror the process on a smaller level in your stores, so that products are handled and packaged just as professionally as in your traditional distribution centers, and you create efficient shipping practices. Not to mention, your customers will be provided with the same standout experience regardless of where the product is shipped, so they can expect consistent branding and packaging with their order.
Some employees may not see fulfilling online orders as their main priority, sending out poorly wrapped and packaged orders. Train them in the picking, packing and shipping process, and make sure your in-store distribution center is organized efficiently so that employees can consistently meet your packaging and wrapping standards.
Set Up a Product Return System 4
Easy returns are critically important to customers. Set up a return system that works for you and your customers. Determine whether orders should be returned in person to stores or shipped back to stores or distribution centers. Then set clear guidelines about mail-only or in-store returns and communicate them clearly to your customers.
Retrain Your Staff 5
When you add distribution to the list of items your employees are responsible for, you will have to retrain your staff on new procedures and challenges. Some employees may be resistant to being tasked with supporting online sales in addition to their main in-store responsibilities. To motivate commission-based employees, consider offering incentives to help ensure buy-in or adjusting your commission structure to fit the ship-from-store strategy.
In some cases, it might be beneficial to hire additional staff to handle in-store fulfillment and train them specifically for that purpose. Naturally, their performance would be measured differently than that of commission-based employees, allowing for a higher degree of control, quality and accountability.
In Conclusion
If you prepare your space, adapt your in-store procedures and work with your employees for a smooth transition, you can begin shipping from store and see the potential benefits to your bottom line and in your customer satisfaction. You'll not only utilize your inventory more efficiently, but also be able to get items out the door faster and at lower cost.