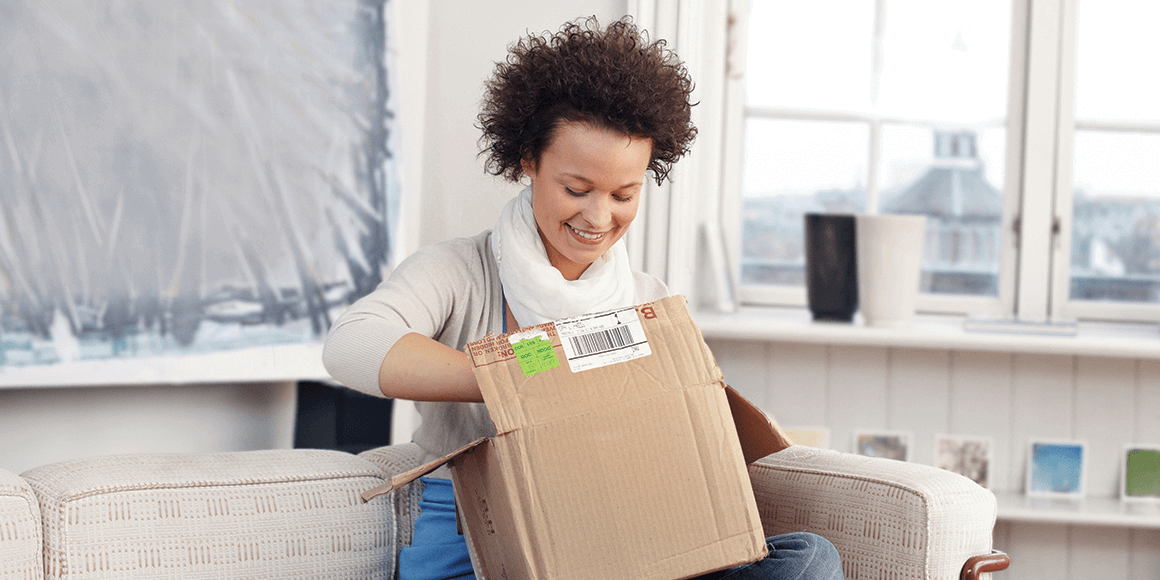 For small businesses, brand differentiation and customer loyalty are key to growth. How can you differentiate your brand from that of the marketplace you're using to sell? If a customer associates your products with that site's brand rather than your own, how can you make them return customers? Creating standout packaging can help.[1]
While developing highly branded packaging can be expensive and time-consuming, there are more simple and affordable ways to let your business shine. Read on for six small business packaging ideas—for both the inside and outside of your shipping box—that can set your business apart and help you win loyal customers.
1
Rubber Stamps
This crafty solution puts your logo, icon or message onto boxes, bags and paper for less than the cost of printing customized boxes. Choose ink in one of your business's colors, or something neutral that works with your packaging.
Use a decorative rubber stamp to:
Place your branding on the box—like on the inside flaps—affordably.
Add a signature touch to paper elements inside the box.
Brand your receipts, envelopes and thank-you cards.
2
Stickers and Tape
Branded stickers can add a little personalization to your parcel without breaking your budget. They're also a great freebie for customers: Throw in a branded sticker for them to keep, and they're likely to remember your brand long after the box is gone.
You can also use custom tape as a decorative touch—forgoing the standard, clear packing variety. Print your stickers and tape with your logo or print a thank-you message on one or both.
Use stickers and tape to:
Keep interior paper wrapping together.
Put a custom touch on a thank-you card.
Tease what's inside the package.
3
Tear Strips
Want to make it easier for your customer to open your package? Incorporate a perforated tear strip in its design. Your customer will appreciate and remember the seamless experience.
Tear strips are often seen when shipping flat items, like books, but can also be used to turn packaging into a useful container for the product. Think of a tissue box or pack of soda cans: Each has a perforated tear strip that turns the carrying vessel into a simple storage device.
Use a tear strip to:
Make a seamless opening experience.
Potentially save on packaging by using less for certain items.
Offer a convenient storage solution for your product.
4
Box Sleeves
Depending on what fits your product, box sleeves can be decorative or functional additions to your interior box packaging. Think of basic box sleeves, which slide over an interior product box, like ribbons on wrapped gifts.
Some sleeves are more like half-boxes that can be used to brand a less expensive, generic box. There are even detailed sleeves with trays that can slip together, creating a small box to hold a product within your shipping box.
Box sleeves can create a curated unboxing experience for a product or item, but aren't recommended for use on your shipping boxes themselves. Use them within your parcel to enhance the presentation of your item.
Use a sleeve to:
Add a decorative touch to a simple box.
Affordably place your brand on an item's individual packaging.
Create a unique carrying case for your product.
5
Personal Touches
Making your customer feel personally appreciated is another way to differentiate your brand and potentially generate repeat customers. Beyond making your packaging recognizable and enjoyable, adding small touches can help connect your customers to your business so they keep them coming back.
Add personal touches, using these ideas to get you started:
Include handwritten or non-generic note, thanking them for their purchase.
Hand-wrap their item using custom paper and branded stickers or tape.
Include extra items, like free samples or stickers that align with your brand message.[2]
6
Eco-Friendly Materials
Today's customers have an eye on the environment. Research confirms the trend: Twenty-seven percent say they want to see environmentally friendly packaging materials in their orders.[3] Show customers your business values are aligned with theirs.
Use packaging that's made with the environment in mind. USPS® boxes meet Sustainable Forestry Initiative or Forest Stewardship Council certification standards.[4] Additionally, we are working to add How2Recycle labels to all our packaging so your customers will know how to properly dispose of their packaging.
When possible, swap plastic or foam for paper or recycled materials.
Communicate to customers about the ways you lower your carbon footprint. Learn more about the USPS carbon footprint at usps.com/green.
Is your brand taking steps to make packaging a more memorable part of the customer experience?
In Summary
Taking your packaging to the next level doesn't have to mean custom-printed boxes, involved branding processes or other expensive additions. Instead, distill the spirit of your business into something personalized or creative that will make your delivery more memorable. With these low-effort touches, you can differentiate your business while earning the loyalty of your customers.