Taking the time to think about logistics and refine your processes can have a surprising impact on your overall efficiency and can produce financial benefits. It can also likely reduce the pressure of getting your products quickly from your customer's order to their door. This infographic will help you with throughput—the art of getting things picked, packed, and on their way to your customer anywhere in the world. From organizing your shipping station to creating a workflow, these solutions can help you succeed at efficient shipping.[1]
Organize Your Shipping Station
By arranging your shipping station with the most commonly sold items in close proximity, you reduce the time it takes for fulfillment. This savings in minutes and seconds adds up and helps reduce the physical impact on your fulfillment personnel.
The ABC classification method.
Classifying your products as either A, B or C helps you evaluate your stock and identify what's performing well and what is not.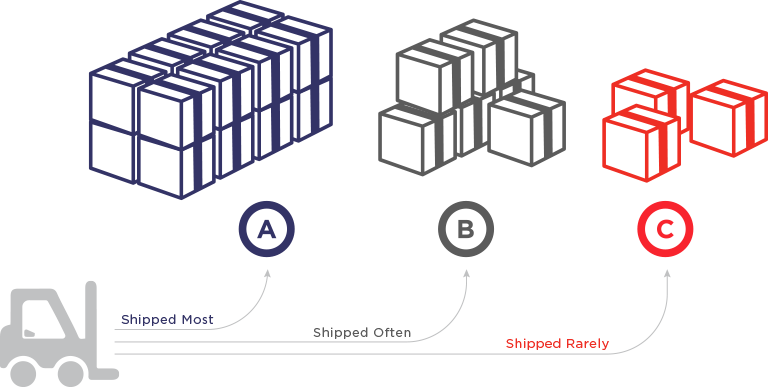 Keep the right tools and supplies handy.
Stocking your shipping stations with the right supplies can help increase speed and accuracy. The simplest glitch, like running out of tape, can impede your whole operation.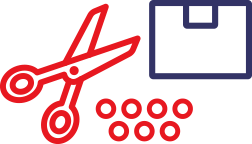 1
Have boxes, bags, envelopes, void fill material and small items like scissors and tape handy.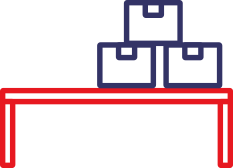 2
Make sure you have flat areas that are wide enough to accommodate all your typical packages.

3
Mark your table with measuring tape to create a guide so you can quickly assess package sizes.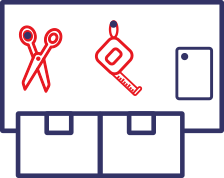 4
Use a pin board to keep your tools and supplies organized and within easy reach.
Create a resupply master list.
As your shipping center grows, make sure that each packing station has its own set of tools and supplies. Develop a master list of packing materials and supplies you'll need to reorder.

Boxes
List each size and the flat size
Bags and Envelopes
List each size

Void Fill Material
List each type, roll width and diameter or amount of space required for storage

Miscellaneous supplies
List tapes, labels, envelopes, pens, markers and other small items
Create an Operational Workflow
Clearly outline your packing operation with a simple flow chart. Defining your operational flow will give you a visual overview so you can consolidate and condense all the functions into a streamlined working model.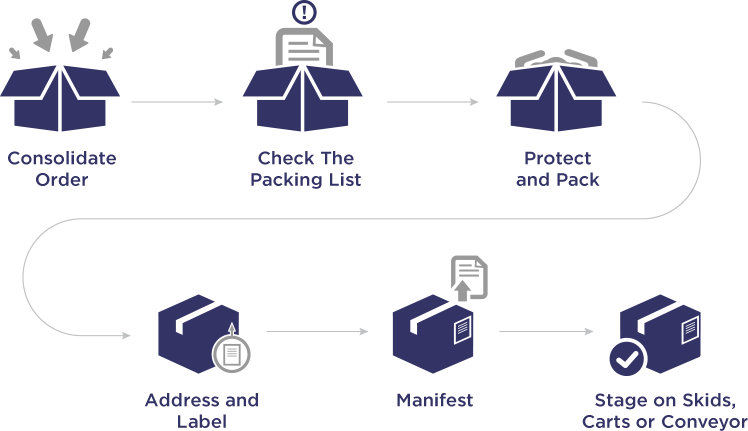 The most efficient packing systems are usually arranged in packing order sequence. Ideally, the packer can then access the orders being shipped from one side of packing station.
Establish Your Packing Order Sequence
Once the items are packed, designate a convenient and centralized place to stage or collect packages ready for transport.

Set up your skid or cart next to the shipping table so your packer doesn't need to carry items, but can slide them onto a cart heading to your outbound shipping area. Restocking can take place from the back of the table or by simply using portable supply carts.
Set Goals and Measure Success
Once you've established your order sequence, set goals around your picking, packing and shipping speeds. Decide how many packages you'd like to ship in a set period of time, whether per hour, per day or per week.

As your shipping process gets in full swing, track your shipping speeds and evaluate them weekly. If the numbers don't meet expectations, reevaluate your workflow and sequence for further improvements.
In Conclusion
With a few operational changes, your company can transform your shipping process. Empowering your business with sound shipping strategies can help you boost efficiency, decrease shipping time and manage costs—all to positively impact your business and customer service.