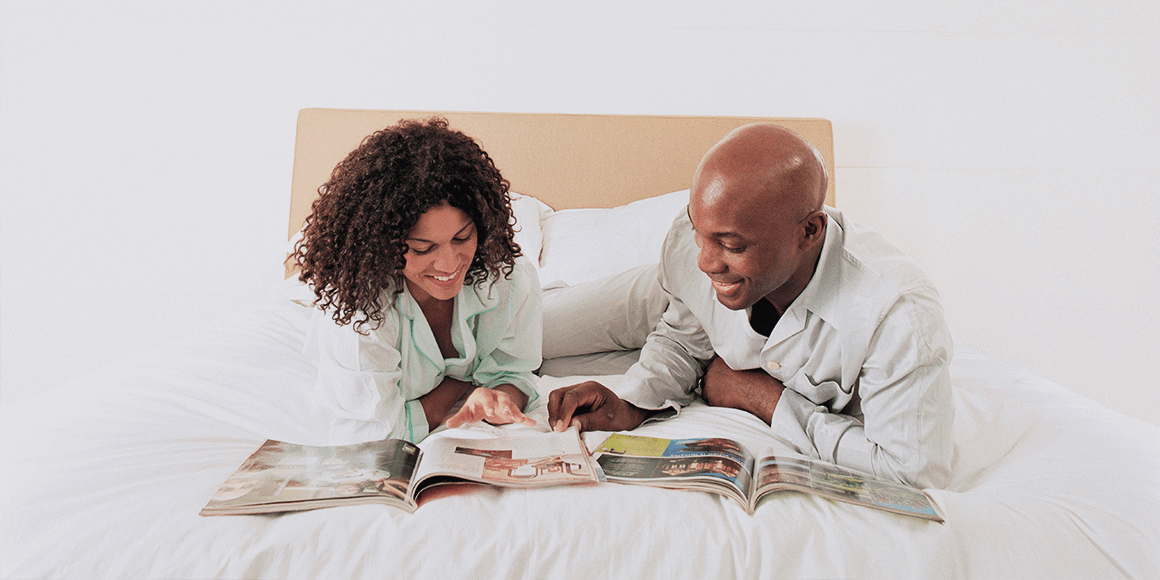 People engage through stories. They respond when inspired. While merchandising still matters, presenting your products in story form helps connect the reader to your brand on an emotional level to inspire action. It's no surprise that catalog mailings have increased steadily since 2015.[1]
Many brands and retailers, as well as vacation service companies and cruise lines, have invested heavily in physical catalogs. Direct-to-consumer companies who focus heavily on digital marketing have done the same.[2]
Catalogs not only provide the tangibility and power of direct mail, they've become an integral part of an omnichannel campaign by driving customers to digital experiences. They're now mobile, website and in-store traffic drivers.
In this article, we'll take a look at 10 powerful reasons why catalogs should be an integral part of your marketing strategy. We'll also give you some helpful ideas that you can use to create a catalog that connects and delivers.
1
Catalogs influence purchase decisions.
Did you know that catalogs actually have a stronger influence on purchase decisions than websites or TV ads?[3] Direct mailings are proactive and tactile—lingering longer in the home, enticing the recipient do something with it. In one case study, a luxury watches and jewelry e-commerce retailer launched a bi-monthly catalog campaign with artistic product photography with high-quality printing. By combining catalogs with emails, the company saw a 15% lift in sales and a 27% lift in inquiries compared to an email-only campaign.[4] Powerful evidence like this is why retailers still use catalogs to engage customers and spark them to start the buyer's journey.
Idea worth implementing:
Feature additional content that helps your customer connect with your products and your company. Studies show that catalogs that include content to express a brand personality have the potential to drive increased sales.[5] Include stories around how the product is used or was created, related articles that provide deeper information and customer or employee profiles.
2
People engage with catalogs on a deeper level.
The purchase experience has become a big deal. Even digital-native organizations have embraced print to better connect with and engage their customers and prospects.[6] It's about moving people beyond a transaction to an emotional connection. Through stories and images, catalogs take people on a journey or even an adventure. As the jewelry retailer case study demonstrated, there is evidence that catalogs can increase sales and engagement through enhanced product vividness and ease of product imagination.[7]
Idea worth implementing:
Offer limited-time promotions. Studies show that engagement with catalogs is strongest when sales are featured.[8] Promotions create a sense of urgency and make it easy to reward your customers.
3
Catalogs are a launching pad for omnichannel purchasing journeys.
Catalogs introduce new ideas. They create awareness and inspire consumers to buy through other channels. Research shows that catalogs are most successful when incorporated into a multichannel marketing campaign to drive customers to e-commerce sites to optimize purchases.[9]
Idea worth implementing:
Extend your brand identity by using the same tone and imagery through all your media channels, including online, social media and print. Be sure to include multiple ordering options in your catalogs, such as website links, phone numbers or mail-in forms including Business Reply Mail® or Courtesy Reply Mail™ service.
4
Neuroscience research supports the value of physical catalogs as a complement to digital communications.[10]
By studying consumers' brains, science is digging deeper into marketing to analyze what works and what doesn't. The results reveal that "physical ads leave a longer lasting impact for easy recall when making a purchase decision [vs. digital]. Most importantly, physical ads trigger activity in the area of the brain (ventral striatum) that is responsible for [evaluating the] value and desirability for featured products, which can signal a greater intent to purchase."[11] To sum it up, science is now proving that direct mail such as catalogs deliver:[12]
Better recall over longer periods.
Stronger brand associations.
Deeper emotional connections.
Idea worth implementing:
Map out your customers' journey from awareness to purchase to gain insight into how catalogs would best fit into their experience. Are they print traditionalists or are they online shoppers who seek instant gratification? Gathering these valuable insights can help you create a catalog that gives your audience what they want and gives you the most bang for your buck.
5
Catalogs bridge the gap between physical and digital worlds.
When paper and pixels converge, amazing things can happen. Catalogs offer the perfect physical platform for integrating dynamic digital technologies such as augmented reality (AR), dynamic QR Code®[13], near field communication (NFC) and much more. These technologies can help you deliver engaging interactive experiences that jump off the page to drive consumers to brand experiences they will remember, as well as to your digital properties, such as websites, mobile apps, social media, etc.
Idea worth implementing:
Leverage Informed Delivery® notifications, a new media channel from the U.S. Postal Service. This innovative feature gives you the opportunity to deliver a physical impression as well as a digital one—from a single mailpiece. This feature is currently a "value-add" at no cost to marketers. To learn more, visit: informeddelivery.usps.com.
6
Catalogs evoke strong, positive emotions and associations.
From the feel of the paper on your fingertips to the visual appeal of the images, catalogs give readers a real and multidimensional experience that stimulates multiple senses simultaneously. These physical experiences help make memories and connections. They also inspire readers with possibilities, helping provide an escape from daily stresses. Studies show that catalogs even help ease the anxiety around receiving bills.[14]
Idea worth implementing:
One size doesn't fit all. While your inventory may determine the size of your catalog, consider testing different formats and specialty sizes to see what your customers respond best to. Using innovative printing techniques such as textures and smells can also make your catalog stand out.
7
Catalogs can leverage customer data to personalize experiences.
Thanks to large industry databases containing demographic information on millions of households, targeting with catalogs is much easier now. And thanks to online purchasing, many retailers have amassed their own databases that can be used to segment their customers by type and buyer behavior. Identifying niches and verticals helps you target only high-quality leads—so you get the right catalogs to the right people. For example, you can showcase a distinct group of products to a target audience, such as golfers or cooks, who are more likely to purchase, which ultimately helps increase ROI. Segmenting also helps offset catalog production costs because they are going to customers who have shown interest in a particular product category.
Idea worth implementing:
Personalize/customize your catalogs using customer data from past purchases to highlight products they've shown interest in. This helps you anticipate their needs and drive loyalty. It can also help you send fewer catalogs to those with lower purchase intent and more to those with greater intent.
8
Catalogs enable attribution and measurable results.
With budget pressures on marketers to prove ROI, attribution is more important than ever. Armed with the knowledge of which lead came from where, you can better assess if your catalogs are meeting your goals. Depending on performance, you can then adjust your inventory, copy, visuals, offers and digital drivers as needed. With their definitive mail dates and customer and source codes, catalogs are easy to track. Telephone, mail and online orders as well as special promotions can all be tracked with codes, so you can attribute a sale to a specific catalog. Driving customers to a digital app from your catalog also provides instant trackability.
Idea worth implementing:
Measure the effectiveness of your catalogs using key code capture and match-back programs so that you can track who bought what and when. Many retailers are syncing up their online customer databases with their catalog data, so they can test what happens when they are synced with other channels.
9
Catalogs deliver ease, convenience, and relaxation.
Easy to consume, catalogs provide the opportunity for consumers to slow down and enjoy the experience of being transported through images and stories—all over a cup of coffee. It also gives them the time to discover new items and make the best choices. Catalogs are accessible anywhere, which allows the reader to browse at their own speed and on their own schedule with fewer distractions. And by featuring a focused product selection, catalogs save people time lost in searching a website.
Idea worth implementing:
Limit your catalog frequency by sending them quarterly or seasonally. This promotes attention, interest and excitement for their arrival. Consider creativity and aesthetics in your design, as they can give your brand a competitive advantage.[15]
10
All generations say they like physical mail, especially millennials.
In a survey conducted by the USPS®, households reported a strong attachment to mail, with millennials spending the most time sorting, opening and reading their mail.[16] Baby boomers and Gen Xers also show strong childhood connections to catalogs prompting feelings of curiosity, hope, and excitement.[17]
Idea worth implementing:
Make sure your mailing lists are accurate. A high-quality list ensures that mailing addresses are up-to-date and have been qualified within the past year. USPS offers a FREE, one-time Address Quality Analysis (AQA). You can also use a licensed USPS address hygiene vendor to ensure accuracy.
Which catalog innovation would you be most interested in implementing?
Key Takeaway
Today's catalogs are powerhouse marketing tools. It's no longer a competition between digital and print. It's all about using the strengths of each medium and offering the best of both worlds to create inspiration and engagement that satisfy your customer and your company's bottom line.