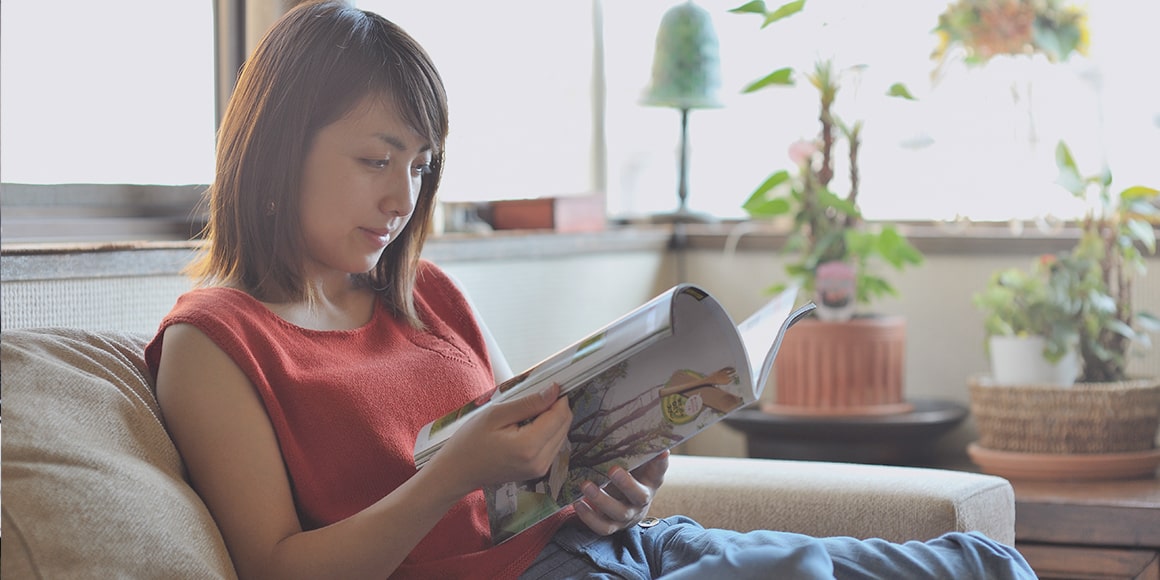 Even though online buying is becoming an everyday practice, shoppers and retailers alike are proving that paper is still highly effective for marketing. While consumers are regularly bombarded with fleeting online ads, physical mail allows consumers to interact with your messaging on their own time.
Print marketing might require more time and money than digital, but catalogs that excite and engage are worth the investment. Follow these eight best practices when creating your next catalog campaign.
Inspire Your Customers 1
First and foremost, your catalogs should inspire the consumer. Gone are the days of catalogs serving as simple product lists. Now—through thoughtful design, photography and copy—you can tell the story of your brand and create meaningful connections with customers.
In an age where people are curating their lives through social media, brand images can now be aspirational rather than just advertisements. While providing useful information is paramount, it's also crucial to emotionally connect with consumers through your catalogs.
Personalize It 2
Always keep your target audience in mind when designing a catalog. Visuals can go a long way and, from start to finish, should reflect the tastes of your customer. A catalog for young professionals will look much different than a catalog aimed at retirees.
Consider customizing your catalogs, highlighting specific items based on customers' previous purchases or showing products available in nearby stores. This level of personalization will help set you apart.
Present a Strong Brand Identity 3
Catalogs are always competing for space in consumers' minds. However, many catalogs look so similar, it can be difficult to differentiate between the different companies releasing them. In order to create brand loyalty, you need to stand out among the crowd, and you can do that by forging a strong identity.
A catalog should be an extension of your brand and should support whatever messages you stand for. A successful catalog will display products in a clear, informative way while still showcasing individuality. Don't let your catalog get bogged down by overly lengthy product details. Use the unique voice of the brand to carry your products forward.
Focus on Quality 4
Quality must go hand in hand with a strong brand presence. This means quality in design, size, and type of paper; everything that goes into a catalog should be purposeful and should represent your business in the best way possible.
These small details can enhance the overall appearance of your catalog and ultimately say a lot about your brand.
Make It Easy to Navigate 5
Catalogs should have a user-friendly layout and be designed in a way that naturally leads from page to page. Readability and scannability are both essential.
There should be a clear hierarchy to each page, with one or two items standing out and other elements lending support. Remember: Using different fonts can be confusing, white space is your friend and important information should always be clear and up‑front.
Use Impactful Photos 6
Image-heavy catalogs give a sense of brand personality and allow customers to browse with minimal effort. In general, environmental photography—showing products in their natural surroundings—is most effective, especially when the people in the photos are interacting with your products.
However, don't group too many products in one photo. This can be distracting to the viewer. It's best to show items individually or in very small, related groups. Make great photos the centerpiece in your catalog. They'll do the work to keep your reader engaged.
Make Ordering Easy 7
Think beyond aesthetics, as well. If a reader can't figure out how to place an order or what items they want to purchase, then you stand to lose out on sales. This is why it's essential to organize your catalog to make ordering as easy as possible. Often top‑selling products are lost among similar items. Focus on top sellers and position them with products that complement them rather than items that could replace them.
As a customer browses the catalog, it should be clear how they can place an order. In addition to providing an easily typeable URL, consider including QR Codes® that lead people directly to your website or app.[1] Finally, be sure to clearly highlight promotions and time-sensitive offers.
Test Frequency 8
Successful catalogs will help lead your customers to your digital channels to make purchases, but should only be sent with controlled frequency so as to not inundate or annoy your audience. While 44% of households read catalogs—leading all other categories of direct mail—receiving too many can be overwhelming.[2]
To determine the optimal frequency for sending catalogs, try running some tests. For example, you may start out sending catalogs on a quarterly basis, then change to a monthly basis. No matter what frequencies you choose, you can adjust as needed based on consumer engagement.
Has your business taken steps to create a more meaningful customer experience through catalogs?
In Conclusion
Catalog marketing is a proven method of boosting online sales. By following these simple best practices, you can provide your customers with a memorable experience that makes them feel inspired, connects them to your brand and drives them to shop.