To create a successful direct mailpiece, at some point you may need to think like a machine—an automated mail-processing machine. That's what will be "reading" your envelope or card for key information. Mistakes in design can mean your mail doesn't qualify for automation discounts—or in the worst case, prevent your pieces from going through the mail at all.
Here are three pitfalls to watch out for:
Odd Shapes
You want your mailpiece to look unique to catch customers' attention, but an odd shape may not be the best way to do that. Certain shapes like squares and tubes are charged a higher price because those pieces must be processed manually. Such pieces are referred to as Customized Marketing Mail, or CMM.
Speaking of odd shapes, don't mail bulky, odd-shaped things like pens or bottle caps in regular letter-size envelopes. You'll pay more in postage, and the items are likely to damage the envelope and be lost.
Address Mistakes
The delivery address must go on the front of the mailpiece, the same side as the postage. And on a letter-size piece, we recommend placing the address within the optical character reader (OCR) area. This means the address should be within these boundaries:
1/2 inch from the left edge of the piece
1/2 inch from the right edge of the piece
2-3/4 inches from the bottom edge of the piece
5/8 inch from the bottom edge of the piece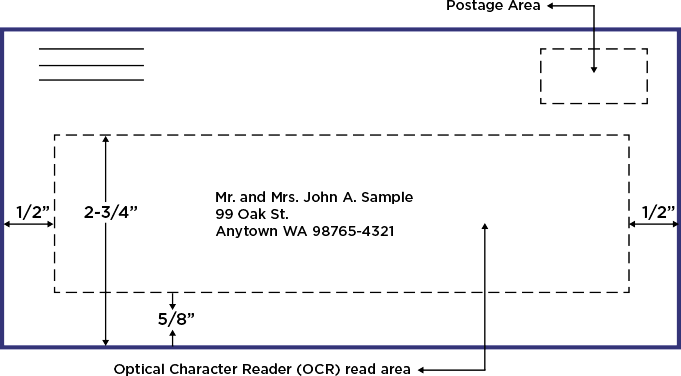 A return address is required in some cases. For instance, you'll need one if you're asking the Postal Service™ to return mail to you that can't be delivered, or if you're paying with precanceled stamps or a company permit imprint. The return address always goes in the upper left corner of the address side of the mailpiece.
For more details, refer to the Domestic Mail Manual (DMM) 202.0, Address Placement, and 602.1.0, Elements of Addressing.
Misplaced Markings
When you look at a piece of direct mail, you'll see several markings on the envelope or card. While they may mean nothing to your prospective customers, they are important to delivering the mail, and they need to go in specific places. These include:
Postage
Postage, which can be paid with a stamp, meter, or permit imprint, goes in the top right corner. Information on the class of mail—for instance First-Class Mail®, Marketing Mail™, or Nonprofit—must be printed as part of, directly below, or to the left of the permit imprint, meter imprint, or stamp. For details on other options for price-specific markings, refer to the DMM 202.3.5, First-Class Mail and USPS Marketing Mail Markings.
Endorsements
Endorsements are markings that tell the Postal Service what to do with mail if it can't be delivered. For instance, you may want them to return it to you or provide you with address change information. For details on where endorsements can be placed, refer to DMM 202.4.0 Placement and Physical Standards for Endorsements.
Barcodes
Barcodes contain a wealth of information that helps USPS® track and route mail more efficiently. To receive automation price breaks, your mailpieces must have a barcode. For details on barcode placement, see DMM 202.5.0, Barcode Placement Letters and Flats.
Consult a Mailpiece Design Analyst
Regulations can be confusing if you're just starting out. To be sure your design will work, it's a good idea to work with a Mailpiece Design Analyst (MDA). An MDA is a specially trained postal employee who can tell you if the finished piece will be mailable and suggest ways to make it eligible for the lowest possible postage rates. By carefully following these suggestions and working with an MDA, you can design a mailpiece that is cost-effective and, most importantly, reaches your prospective customers.
Additional Resources
The entire Domestic Mail Manual and other valuable postal information can be found on Postal Explorer® website at http://pe.usps.com/.