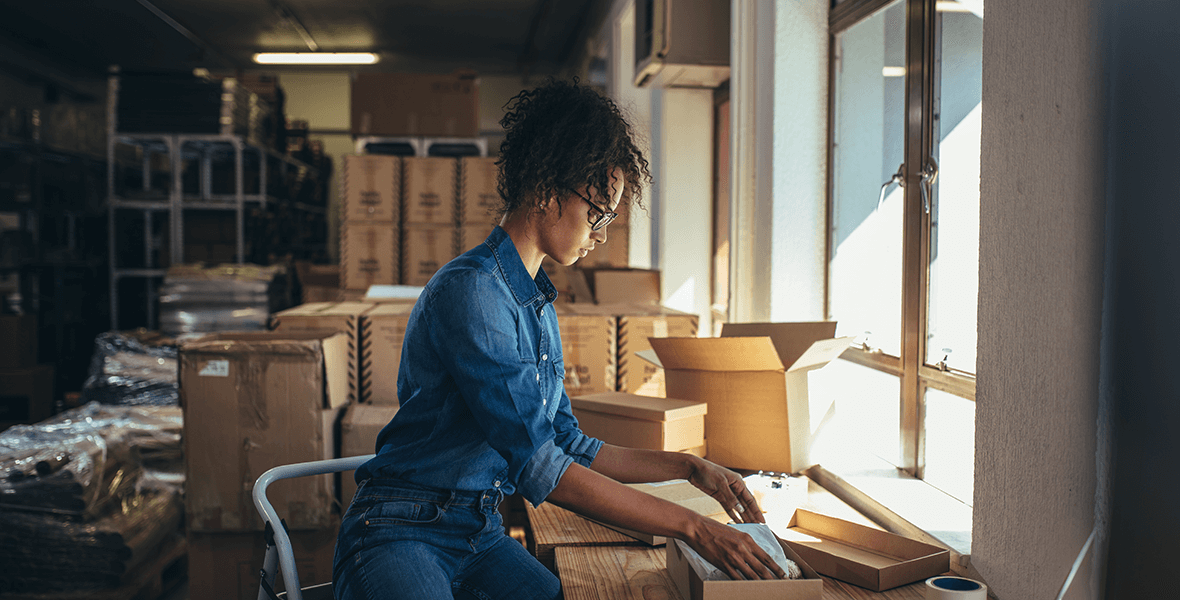 The rules have recently changed for retailers as e-commerce has soared and consumers have adjusted their purchasing habits to suit a more stay-at-home, socially distant lifestyle. As a result, returns have surged, and that's not likely to change anytime soon.
With e-commerce evolving and returns increasing, managing the complex and costly returns system known as reverse logistics becomes even more integral to business success. With so many factors to consider—such as shifting customer habits and emerging returns patterns—it's more important than ever to recognize returns as an opportunity to create value for customers while finding ever-greater efficiencies.
89
%
of shoppers surveyed made holiday purchases online in 2020 and 63% have returned or plan to return a holiday purchase.
[1]
Product Returns Are Trending Up
As the pandemic continues to change shopping behavior, new patterns have emerged in returns volume: the categories of items being returned have shifted, and customer purchasing habits have transformed.
One consumer practice that is notably on the rise is bracketing, or buying multiple versions of an item with the intention of returning some of them. With customers now less able or inclined to visit stores, bracketing has surged in popularity—particularly in the categories of apparel and home goods—as a way to try out different items without leaving the comfort of home.
As a result of all these changes, the traditional methods of using past purchase behavior to make predictions have become unsustainable—creating new challenges for retailers.
A new situation requires a new approach to reverse logistics—one with a better understanding of customer habits and preferences.
Top Tips for Better Returns
To help ensure success today and into the future, many businesses are looking for new, actionable insights into how they can turn a shifting returns landscape into an opportunity—allowing them to not only gain new customers, but also strengthen relationships with existing ones. Here are some ways you may do so while continuing to meet important business benchmarks:
Track the Trends
To better understand customer habits and behaviors (both individually and in broader segments), cross-reference customer relationship management (CRM) data with returns data to explore emergent trends. For instance, you may want to identify which customers are more likely to return certain products. This can help you better plan for returns volume from various consumer segments and regions.
According to a 2020 survey conducted on the state of online returns, more than 60% of consumers surveyed now bracket their purchases, and certain segments (e.g., those under age 30) are even more likely to do so.[2]
CRM data can also offer insights into better ways to incentivize certain customer behavior. Rewarding behaviors you're seeking can be very effective in reducing returns volume. For example, if a large portion of your returns are coming from a region with more expensive shipping costs, you can try to reduce those costs by offering customers in that region a discount in exchange for forgoing your standard returns policy.
While every business will have its own unique solutions, a recent report suggests it may take only a 5% discount to persuade 39% of shoppers to keep unwanted holiday purchases.[3]
Examine Products and Presentation
In managing returns, the way your products are marketed and presented can be just as important as the products themselves. After all, customers often get their first impression of a brand's offerings while browsing through an online store or e-commerce app.
You can track which products are being returned the most and catalog their attributes to help determine why they are coming back so frequently. It could be specific features of the product itself, the way it's being marketed or the way that customers are experiencing it online that are influencing the return rate.
In fact, it's often several factors combined that contribute to a rise in returns.
Some product characteristics to consider include the number of styles in a given product category, which could inform inventory or even product offerings. Take sunglasses, for instance: With so many styles, it can be difficult to conceptualize which will look best, not to mention fit comfortably. Check the number of color options available and whether the breadth of choice correlates to greater returns.
There are other factors beyond the product-specific. Perhaps the items being returned most often do not have representative photos online at the point of purchase. If they do, are the photos accurately depicting important characteristics of the item, such as size, shape or texture? Returns may also stem from the product description: Is it sufficiently detailed and 100% accurate? Do the customer reviews reveal any particular pain points that you can address?
Also, you can explore whether the products being returned correlate to a specific demographic group or affinity group—or if they're related to other factors, such as purchase cadence or repeat purchases versus new customer purchases. If you have access to this data in your CRM system, you can use it to help determine the lifetime value of customers, allowing you to both encourage repeat purchases and reduce returns volume.
For example, if the data shows that a customer making a return has made many small purchases in the past, you could encourage further loyalty (and hopefully offset some of the cost of the return) by offering a discount on a new purchase amount that is slightly higher than their usual spend. In this way, returns become an occasion to strengthen the relationship and increase your average order value.
Taking the time and energy to understand the purchasing habits of your customers and their relationship to your products—particularly through the returns system—can ultimately yield greater savings and behavioral intelligence. What's more, it can make your customers feel that their interests and concerns are being acknowledged and valued.
Key Takeaway
Reverse logistics is growing in scale and importance by the day. Take a closer look at the returns ecosystem of your company—your customers, your products and your carriers—and you can find new ways to create value for your customers and your business.
Footnotes
[1]

"Online Orderings Return Round Trip: Do Discounts Change Consumers' Minds About Returning Holiday Purchases?" Pymnts.com, January 2021.