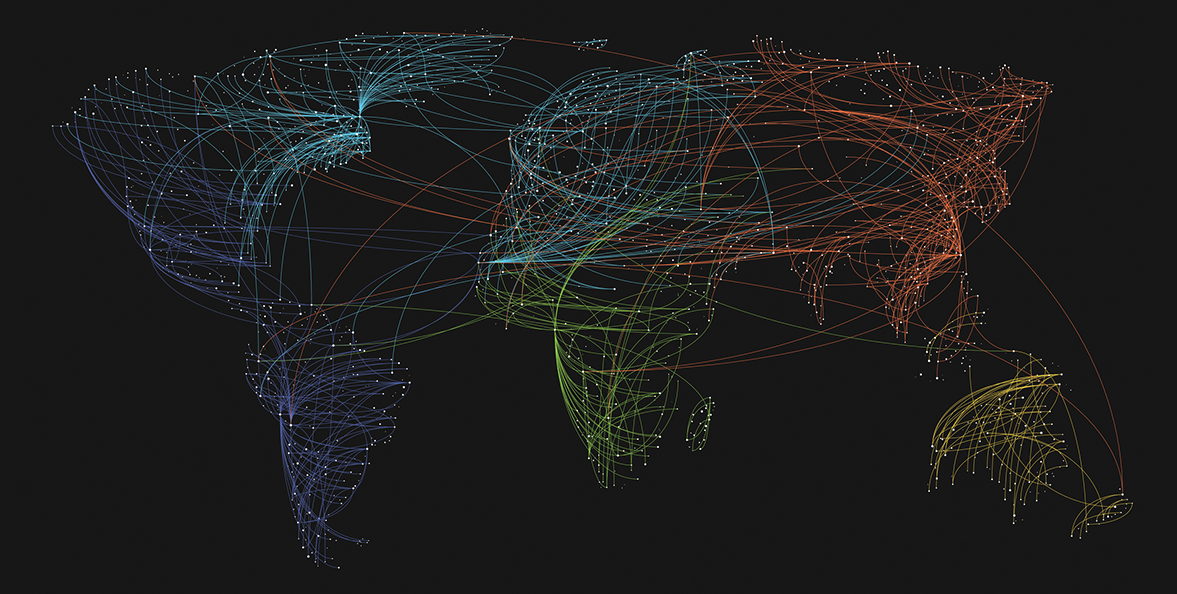 When you think of exporters, you may automatically think of big businesses—major manufacturers selling cars, electronics and airplanes. And it's true: Large corporations sold the bulk of the $2.5 trillion worth of goods and services exported from the United States in 2018.[1] [2]
But they're not the only players in the game. Nearly 300,000 small- and medium-sized businesses export products or services to at least one country outside the U.S., according to the U.S. Census Bureau.[3]
A wealth of resources is available to help you branch out into global markets. Because exports are good for the country, government agencies at the federal, state and sometimes local levels provide a tremendous amount of support to would-be exporters.
These agencies can help you learn about markets, find buyers, work through unfair trade practices, obtain financing and more.
In this export guide, we'll provide an overview for small- or medium-sized businesses looking to make the move into international trade and outline several ways it can help your company. We'll also point you toward some helpful resources—many of which are free.
Keep in mind that in light of recent disruptions caused by COVID-19, shipping restrictions or bans may be in place for certain items, such as personal protective equipment (PPE). To ensure you're adhering to all necessary guidelines, check the FEMA websitearrow_right_alt and trade.govarrow_right_alt regularly.
Privacy Act Statement:
Your information will be used to understand the needs of customers and improve USPS sales and marketing efforts. Collection is authorized by 39 U.S.C. 401, 403, and 404. Supplying your information is voluntary, but if not provided, we may not be able to fulfill your request. We do not disclose your information to third parties without your consent, except to act on your behalf or request, or as legally required. This includes the following limited circumstances: to a congressional office on your behalf; to agents or contractors when necessary to fulfill a business function; to a U.S. Postal Service auditor; for law enforcement purposes, to labor organizations as required by applicable law; incident to proceedings involving the Postal Service, to government agencies in connection with decisions as necessary, to agencies and entities for financial matters, and for customer services purposes. For more information regarding our privacy policies visit
www.usps.com/privacypolicy
Why Export?
Exporting can help your business in many ways, if you're willing and able to put adequate resources into it. Here are a few reasons to consider branching out into global markets:
To grow your business, especially if the U.S. market for your product is mature
To diversify your customer base so you can better weather domestic economic slowdowns
To make better use of your production facilities if you have excess capacity
To make up for the lull during slow seasons
To gain business experience and contacts that can help you compete at home and abroad
To increase the value of your business if you decide to sell it
USPS® resources for international shipping
Several U.S. Postal Service® resources provide detailed information on shipping products outside the country. These include:
You don't have to be a big business to expand into global markets.
Key sources of export information
If you want to begin exporting, one of your key allies should be the U.S. Commercial Servicearrow_right_alt, which is part of the International Trade Administration in the U.S. Department of Commerce.
With a mission to promote international trade, the U.S. Commercial Service offers assistance from more than 100 offices nationwide and more than 70 additional offices worldwide.
They can give you detailed information on government export programs, help you research markets and provide general guidance throughout the process. They also offer detailed books and reports, as well as a websitearrow_right_alt with a wealth of information.
The International Trade Administration's Export Solutions web pagearrow_right_alt is another key resource. This compiles information from various government agencies that deal with foreign trade, including the U.S. Commercial Service and the U.S. Small Business Administration.
FAQs on exporting for small- and medium-sized businesses
How risky is exporting for a small- or medium-sized business?
Some countries, such as Canada, offer no more risk to the U.S. exporter than shipping from within the United States. Export assistance programs from the U.S. government can help you better understand the potential hazards and manage them. For instance, insurance and loan-guarantee programs can help reduce the commercial and political risks of international trade.
International trade sounds complicated. How can a small business like mine get started?
The world of exporting can be complex, but there are numerous sources available for free or low-cost information and training. Also, keep in mind that you can move into exporting at your own pace, using a major international e-commerce site to get started.
How will I handle international payments?
There are multiple ways to safely and efficiently transfer money internationally, including payment systems and letters of credit through accredited banks.
How large does my business need to be for me to start exporting?
There's no minimum size. Remember, almost 300,000 small- and medium-sized U.S. companies export to at least one international market.[4]
Back to Menuarrow_right_alt
Identifying Possible Markets
If you have a website and occasionally fill orders for people living in other countries, you're already exporting. But to build up a sizable foreign market for your products, you'll need to pursue exporting more actively.
First, think about which countries may be good markets for your product or service. You have several factors to consider when choosing which of the nearly 200 nations in the world you should target first.[5]
Are you legally allowed to trade your product or service there?
When exporting, you can face restrictions from both the U.S. and the receiving country. For instance, the U.S. government tightly controls exports of items and services that can be used in weapons programs. It also imposes broad trade sanctions on certain countries.
For details on export restrictions, you can start at the International Trade Association's web page, Comply with U.S. Foreign Regulationsarrow_right_alt.
Even if the United States lets you export your product, another country may make it challenging. Many countries restrict the types of goods they allow in, sometimes for cultural reasons or to protect local industry.
For instance, there are restrictions on importing footwear to Italy, alcoholic beverages to Canada and coffee to Jamaica.[6] To determine import restrictions for specific countries, check the individual listings in the USPS IMMarrow_right_alt.
Be aware that most hazardous materials can't be mailed internationally through USPS. These include many common consumer items such as perfumes, aerosols and electronic products that contain certain batteries. For more details on USPS-specific restrictions, check the IMM, as well as Publication 52arrow_right_alt, "Hazardous, Restricted, and Perishable Mail." If you're using other carriers, be sure to check their specific guidelines.
Is there demand for your product?
If your product sells in the United States, it can probably sell in countries that have similar needs and conditions. If you sell ski gloves in Colorado, you may also find demand for them in Canada, Austria or Norway. If you've received international orders from your website, that may tell you something about demand in particular countries or regions.
You may also find a market if your product is unique. But even if it's not, you may benefit from "Made in the USA" perceptions of quality if it's produced in the U.S. Other differentiators—like excellent customer service—can help as well.
Research various markets to answer these questions:
What is the average income?
Is there a growing middle class that may be interested in your product?
What competing products are being sold there?
You can start your research with these free sources of information:
The U.S. Census Bureau provides demographic informationarrow_right_alt and statisticsarrow_right_alt on U.S. exports to various countries.
The U.S. Commercial Service provides Country Commercial Guidesarrow_right_alt, which include overviews of the market in specific countries, as well as details on their political and economic environments, leading sectors for U.S. exports and investment, trade regulations and the investment climate.
Trade and industry association reports can provide export data for your industry.
If you're ready to go beyond free sources of information, the U.S. Commercial Service offers customized market research reports that can suggest promising markets, discuss effective distribution strategies and help identify the competition.
The service can also put you in touch with experts in your particular market of interest. Check export.govarrow_right_alt for the nearest U.S. Commercial Service office.
Is trading with your targeted country favorable?
Generally, if the U.S. has a free trade agreement (FTA) with a country, it will be easier for you to export your products there. Forty percent of exported U.S. goods go to FTA countries.[7]
For a list of FTAs in force or under negotiation, check with the Office of the United States Trade Representativearrow_right_alt.
If you have a website and occasionally fill orders for people living in other countries, you're already exporting.
Back to Menuarrow_right_alt
Creating a Market Entry Approach
Your business can take several paths to reach international customers. Which path you choose will depend on your company's resources, level of expertise, tolerance for risk, the business conditions in your targeted markets and other factors. Your options include:
Domestic intermediary. Using a domestic buyer who sells to foreign customers is the simplest approach. With this setup, you sell to someone in the U.S. who then handles all exporting details. Your domestic intermediary could be a U.S. or foreign corporation operating here, a general contractor, a foreign trading company, an agency of a foreign government, or a similar entity. Attending a virtual trade show for your industry can be a good way to make the domestic connections you need.
Foreign intermediary. This involves contracting with a company that can help you find international buyers. It could be an export management company, export trade company or international trade consultant. You can also use an international e-commerce platform, which handles your logistics for a fee. The U.S. Commercial Service's International Partner Searcharrow_right_alt can help you locate an intermediary.
Direct sales. You can also sell directly yourself. With this method, your company handles everything, from market research to shipping and distribution in the foreign country to payment collection.
Generally, using a domestic intermediary requires the least amount of effort and risk; however, you sacrifice control and some of the profits. You also miss the opportunity to gain experience that can help you become a savvy exporter and grow your international business.
Selling directly requires more effort and carries more risk, so management commitment—and patience—is imperative; you may be investing in exporting for months or even years before you see a payoff. But you will gain invaluable experience that can help you compete more effectively and grow your market and profits.
In terms of risk and reward, using a foreign intermediary falls somewhere between using a domestic intermediary and exporting directly.
You may find that it makes sense to use different approaches for different countries, or to use different approaches at different stages in your company's growth.
Back to Menuarrow_right_alt
Finding Customers
If you've decided to take the direct sales approach to exporting, it's up to you to find customers in your targeted country or countries. You'll probably want to try a combination of methods for locating buyers.
Getting the word out
Here are some simple ways to reach out to foreign customers:
Make your website friendly to international visitors. Include a currency converter and translate key pages into the language used by your target country, if necessary. If you're selling apparel, consider including a size converter.
If your company is eligible, have it listed in Featured U.S. Exporters (FUSE), an online directory of U.S. products and services displayed on U.S. Commercial Service websites around the world in the local language of the target market. For more information, visit export.govarrow_right_alt.
Research business directories published by international publications for your industry and consider listing your company in one.
Other sources of information on trade opportunities and overseas contacts include the United States Department of State Business Information Database Systemarrow_right_alt, the U.S. Trade and Development Agencyarrow_right_alt and state and local commerce or trade offices.
In-person contacts
If you're ready to take the next step and meet potential customers in person, consider these options:
Attend a virtual international trade show or trade fair, where companies display their products. Thousands of trade shows are held around the world each year—many of which are industry-specific. Visit the International Trade Association's event pagearrow_right_alt to search for trade shows that fit your needs.
Take part in a trade mission organized by the federal, state or local government. A trade mission is an international trip set up to help U.S. businesses explore trade opportunities with another country or region. Trade mission organizers will help take care of logistics, organize networking events and introduce you to prescreened foreign business contacts.
Use the Gold Key Matching Servicearrow_right_alt, a buyer-finding solution offered by the International Trade Association that provides orientation briefings, market research, appointments with potential partners and interpreter services.
Back to Menuarrow_right_alt
Building an Export Support Network
If you decide to export directly, you'll find many sources of support, including the U.S. Department of Commerce, your state trade office, freight forwarders, shipping companies and international banks.
Start creating your export support network now. Find contact information and reach out to agencies, organizations and businesses that could help you reach your export goals. The resources below can help you get started.
Your state's department of commerce or office of international trade
Your local chamber of commerce
A local university
Industry trade associations
Back to Menuarrow_right_alt
Preparing for Export
As you research target markets for your exports and identify possible buyers, also consider whether you'll need to modify your product to meet your international buyers' needs and whether your pricing structure works in another market.
Making changes to your product
You may need to modify your product or your packaging to satisfy regulations in the importing country or to match the tastes and customs of its residents. For instance, electrical standards vary throughout the world, which means some countries have different safety or labeling requirements from those in the U.S.
Getting the price right
Consider multiple factors when deciding how to price your product, including:
The cost of making modifications for the new market.
The cost of getting the product to market, including tariffs, customs fees and shipping costs. Your carrier should have international rate charts easily available online. Freight forwarders can also help you zero in on shipping costs.
The price of competitors' products in the new market.
The perceived quality of your product. Remember that "Made in the USA" is associated with quality in most countries.
Foreign currency fluctuations.
Translation costs.
Per-capita income in the target country.
Market positioning.
The target country's pricing laws.
You may also need to account for differences in taste. Customers in your target country may respond negatively to certain colors. They may need different clothing sizes, as well. If you have to tweak your products or packaging, you'll need to factor in those costs when deciding whether to pursue customers in certain countries.
You may find that if you add up the costs associated with exporting your product, you end up with a number that's much higher than your U.S. price. Don't be discouraged. If a high price makes your product uncompetitive, you may still want to export.
If you have surplus goods or excess production capacity, for example, it may make more sense to sell products at a lower profit margin than to have idle capacity. You may accept a lower price to establish yourself in a new market, or you may decide to sell a simpler version of your product to a market with a lower per-capita income.
Likewise, if you subtract the cost of your domestic advertising budget and similar costs that relate only to your domestic market, you may find that you can charge less.
Do you need an export license?
Be sure you're complying with all the exporting laws and regulations in the U.S. and your target country. This means you'll have to determine whether you need a license.
There are three government agencies that may require an export license: the Department of Commerce, Bureau of Industry and Security (BIS); the Department of Treasury, Office of Foreign Assets Control; and the Department of State (State Department). However, most exported items—95% or more—do not require an export license.[8]
Whether you require an export license will depend on:
Where you're exporting to. Export licensing requirements vary by country, based on U.S. foreign policy and national security concerns. A few countries are subject to comprehensive embargoes. Relatively few exports to close U.S. allies raise licensing concerns. Many countries fall between these two extremes. Each licensing agency may maintain different country-based restrictions.
What you're exporting. The type of commodity you're exporting can determine whether a licensearrow_right_alt is required and from what agency. For example, the State Department regulates exports of military-use goods, such as night-vision goggles, body armor, and parts and tools for certain firearms. The location to which the commodity is being shipped will play a part, as well. Even exports of certain commodities to embargoed countries may be exempt from typical license requirements.
Who is involved in the export. Even if an export would otherwise be allowed based on the commodity and country, some individuals and organizations are subject to special license requirements. A license may be required if the party is receiving the export or is involved in the transaction in some other way, such as in processing a payment or facilitating a shipment. Each licensing agency maintains lists of blocked parties. Links to these lists can be found at trade.govarrow_right_alt.
How the exported items will be used. In some cases, a license requirement depends on how the commodity will be used in the foreign country—for example, whether the end user is civilian or military, or whether the item will be used for a U.S.-supported activity, such as publishing or education.
The BIS publication "Frequently Asked Questions to Export Licensing Requirements"arrow_right_alt can help with licensing requirements.
Be sure to comply with all the laws and regulations in the United States as well as in your target country.
Sending your goods on their way
Be aware that packing, labeling, documentation and insurance requirements may differ from those of domestic shipping. Here are some best practices to help ensure success:
Pack your goods in strong, well-sealed containers.
Label them correctly to ensure proper handling and timely delivery. To discourage theft, avoid printing contents or brand names directly on the packaging. However, a full description of contents is required on customs forms.
Document your shipments correctly to comply with U.S. and destination-country regulations. It's wise to work with a shipper to ensure you do this correctly.
Insure your packages against damage and loss.
Shippers can be a great resource for you at this stage. They will be familiar with the U.S. and the target country's import and export regulations and can advise you on different shipping methods.
Avoiding export violations
You must be meticulous in complying with export laws and regulations. Violations can lead to civil and criminal penalties and a denial of your export privileges.
The Bureau of Industry and Security recommends establishing an Export Management and Compliance Program (EMCP) to help you stay on track. The Bureau also notes that if you do make a mistake in following the regulations, voluntarily reporting it and having a solid EMCP in place will go a long way toward mitigating the consequences.
The BIS also has great training resourcesarrow_right_alt, including seminars and webinars, to help your company stay compliant.
Back to Menuarrow_right_alt
Key Takeaway
There's a world of opportunity beyond our borders for businesses looking to grow. In fact, according to the U.S. Department of Commerce, 95% of consumers live outside the United States.[9]
If you're ready to get started with international shipping through USPS, you can find more details in the USPS International Mail Manualarrow_right_alt, which provides mailing standards and regulations for international shipping, and in USPS Publication 699arrow_right_alt, "Special Requirements for Shipping Internationally."