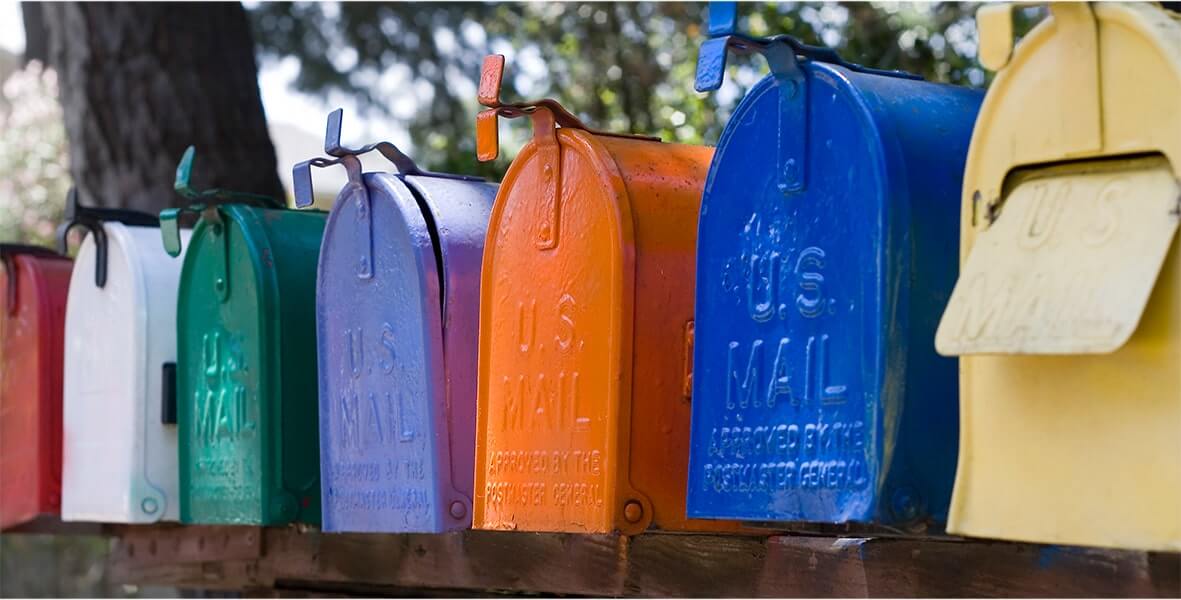 It can be tough to create an effective marketing campaign that cuts through the daily digital clutter. It often means changing strategies, testing new concepts and broaching new messaging territories—all actions that you might approach with hesitation.
But the Informed Delivery feature from the United States Postal Service® (USPS®) can help your business break through. The service allows participating customers to see what's coming in the mail, from their email.
The Informed Delivery email, sent daily, includes black-and-white images of the physical mailpieces,[1] as well as connected calls to action that the sender—a business owner like you—can customize to get the most out of the service.
Interested in using the Informed Delivery feature for your next mailing? Refer to the three tips below to help guide your campaign.[2]
1. Optimize Your Mailpiece
In the daily Informed Delivery email, your mailpiece is displayed in grayscale. Take this into account while designing: Will the color contrasts still read in black and white? Does your message still come across? It's also important to think about the format of your physical piece. Odd shapes—even squares—and catalogs can't be scanned like traditional postcards and letters, and thus won't be displayed as images in the email.
Instead of investing in unusual mail formats, consider including additional, related digital content in your Informed Delivery campaigns. This content—referred to as ride-along content—must be directly related to the mailpiece you're sending. It could be a link to a digital experience, a video, or your online store, for example.
2. Entice with Personalized Ride-Along Content
In the daily Informed Delivery email, ride-along content appears in color beneath the preview image of your mailpiece. Consider ride-along content a personalized, helpful complement to what participating customers will see in their physical mailbox.
If you're mailing promotions for new stores or products, for instance, you can build awareness quickly and effectively by sharing content that introduces the business in a memorable way—such as by linking to an engaging video—or encourages another connection, such as following your company on social media.
3. Enhance Your Market Reach Using Data
As of March 2021, 37.5 million people—21.9% of all U.S. households—had signed up for the Informed Delivery feature.[3] Of those registered, 79.5% chose to receive the Informed Delivery notification via email.[4] That's an email audience of 29.8 million people for businesses to connect with.[5] Between 2017 and the end of 2020, a total of 11,000 consumer brands generated more than 89,000 interactive campaigns using the Informed Delivery feature.[6]
79.5%
of Informed Delivery customers receive the Informed Delivery notification via email.
[7]
These types of data points can help you continuously improve the customer experience. Make your ride-along content mobile-friendly, and use it to encourage customers to act on your mailpiece's call to action—like taking advantage of a sale. This helps move customers to act even if they don't look at the actual physical mailpiece.
As you continue to employ Informed Delivery campaigns, you'll also gather data more specific to your business. Use that information to retarget your audience in a more effective and personalized way, whether with more physical mail or through other digital experiences.
Key Takeaway
Enhancing your direct mail is easier than you might think. With the Informed Delivery feature, you get three touchpoints—email, digital ride-along content and the physical mailpiece—all in one fell swoop. Don't hesitate to make the most out of your direct mail marketing strategy and create lasting engagements with shoppers.