A well-executed return strategy builds brand loyalty, it's true, but in the current retail landscape it's proven to be one cornerstone of a vibrant e-commerce business. Some smart companies have put their return processes to work, making them integral parts of their business. Take the home try-on model, which allows customers to try products before they buy them. In recent years, a number of growing companies have found success with this high-volume strategy. They've done so by nailing their logistics and, more importantly, by building their businesses 100% on returns.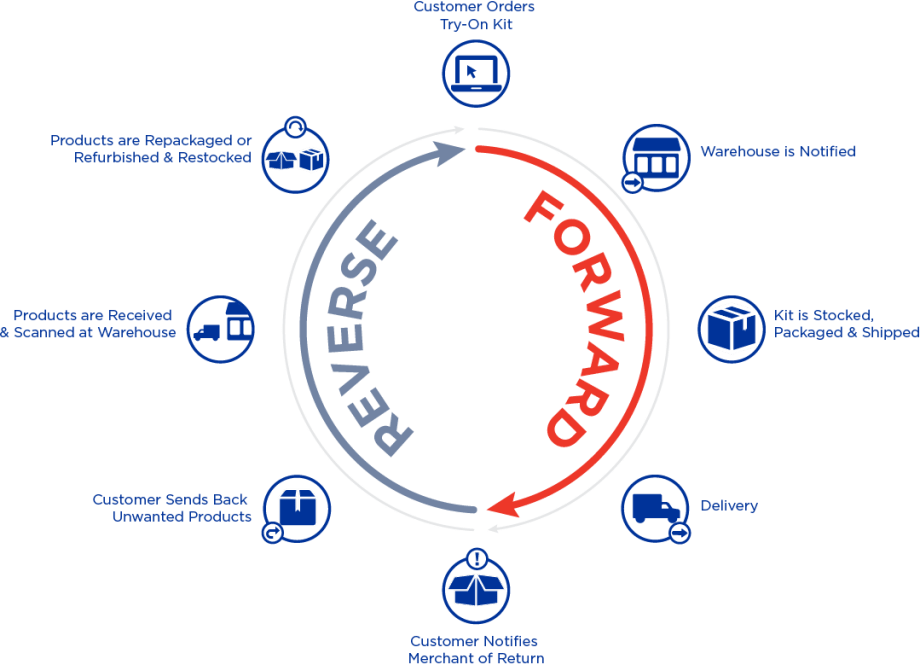 Home Try-Ons Explained
In this model, businesses ship products to customers for little or no cost, allowing customers to try products—clothing, eyeglasses, etc.—before making a purchase. Any pieces the customers don't return back to the company, they pay for. Naturally, this strategy necessitates a 100% return rate, meaning almost all shipments are expected to be sent back, whether they include some of the products sent or all of them. Here we list two companies who've made it work:
Gwynnie Bee
Positioned as a clothing rental service for plus-size women, this startup allows customers to choose their favorite styles from a curated collection of designer brands. Each shipment includes 1-3 of these pieces, which customers can borrow for as long as they want and ship back when they're done. Anything they love they can keep for less than retail price. The rest they send back free of charge. Essentially a home try-on model with rental perks, Gwynnie Bee's business is built upon its understanding of a certain customer – the plus-size woman who loves trend-right clothing.[1]
Warby Parker
In six years, the eyeglass startup has gone from an anonymous LLC to a market disruptor. From day one, the company offered to send their customers five frames to help them pick the best product. As a result, the fledgling business hit its first-year sales goals in its first three weeks.[2] Understanding and tackling the challenges of online shopping was key to Warby Parker's success. By implementing a no-pressure home try-on model, the company was able to serve its customers a personalized experience in the comfort of their own home. Now, other competitors have mirrored this return strategy in the hopes of winning business.
Getting Up and Running
Step 1
To boost margins, rethink your packaging dimensions, contents and composition. This should be your first consideration when mapping out your return strategy. No matter the size of the operation, companies that sell light products with high margins are best suited for the home try-on business. Since this return model necessitates a larger volume of shipments, lightweight products keep costs down, while high margins cover the total price of shipping.
Step 2
Next, you'll want to focus on your return process. How can you increase efficiency and speed before you bring the model to market? Analyze your system and warehouse operations. Look at your inventory tracking process. Is it accurate? Since the majority of your shipments will be sent back, you'll want to be completely aware of your stock, as will your providers and your customers. Fuzzy, incomplete data slows operations and frustrates customers. A well-oiled tracking system will help both the front-end and back-end.
Step 3
Leverage all your analytics to get to the heart of your customers' purchase behavior. Your work will show through. For high-volume models like this one, you want to keep your return rate down. Guiding your customers to the right products will keep you from wasting your cash on operation fees. Stay on budget before you see a cent. The more accurately you can predict and present the best-suited products for your customers, the more profits you'll see.
Step 4
Continue gathering data about your customers and their experiences. The more data you have about your customers, the stronger your marketing efforts become. The home try-on model allows you to track the styles, colors and sizes your customer purchase. With that information, you can tailor future shipments around those preferences and send customers pieces they are more likely to purchase.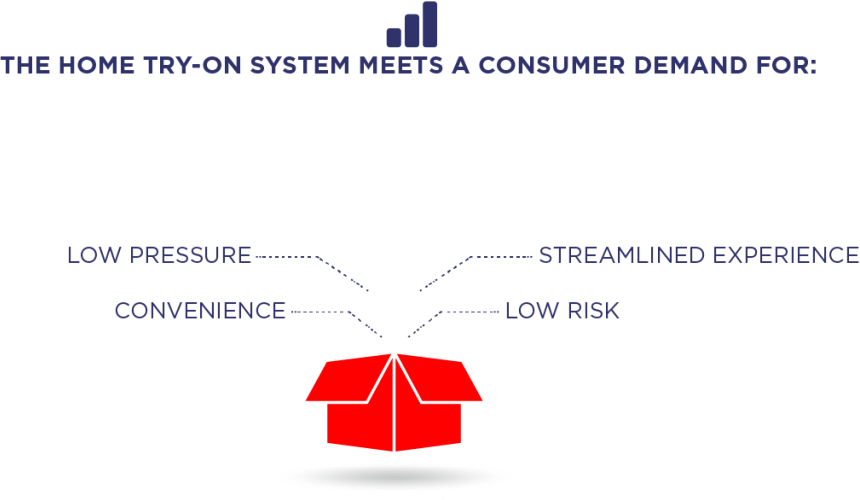 Consider the Customer
Beyond logistics, the key to a winning home try-on strategy is empathy. Whether you're a corporation or a small online business, the market rewards companies in tune with their consumers. Listen well.
Thanks to a booming online retail market, increased competition, endless reviews and social media feedback have firmly put the power in the hands of customers. Let them have it:
Leverage the convenience of home try-ons by making the service free or low cost. Charging a $1 refundable fee for the try-on kit, like Warby Parker does, puts less pressure on customers.
Be sure your return policy doesn't stop them in their tracks. Create clear communication that easily explains the try-on process.
Deliver your message on your website, mobile efforts, social media, e-mail and text. Sending tailored cross-channel content and merchandise recommendations creates a seamless, memorable experience amidst a sea of endless offers and options.
Embrace the opportunities in this new wave of innovation. Whatever the climate, customers will follow the companies committed to understanding and serving them.
Learn more about how an optimized return strategy can positively affect your bottom line.