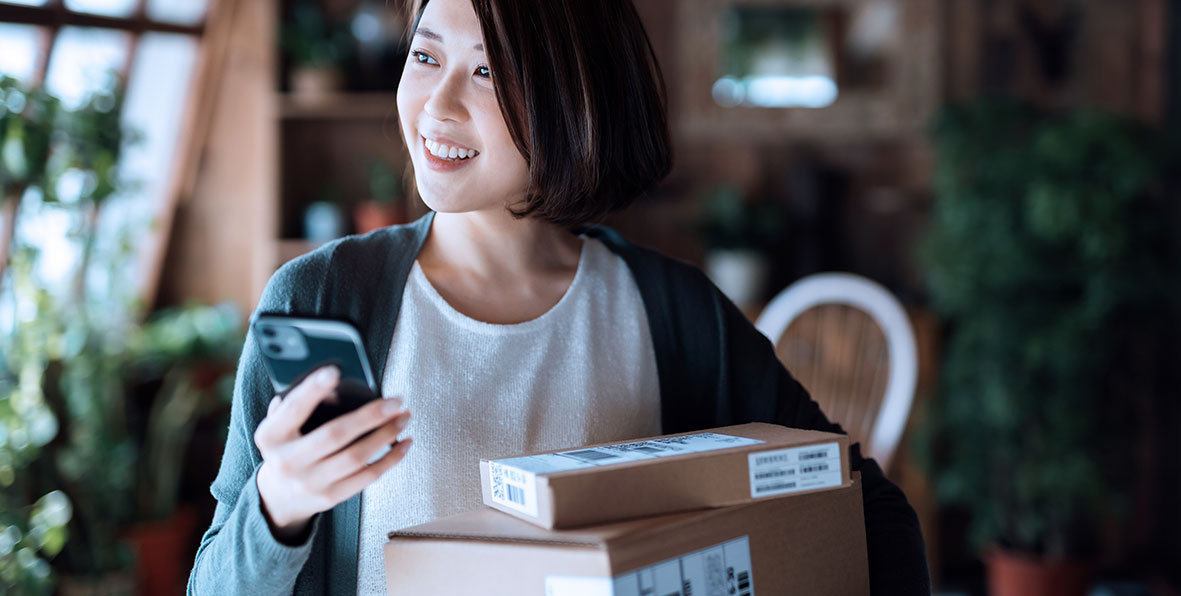 Successful e-commerce isn't just about inching customers closer to purchase. It's about forming meaningful connections—before, during and after a transaction. Today, the post-purchase experience is an integral part of the e-commerce journey, and businesses must make this a priority to stand out from the competition.
Creating a unique and meaningful experience after a sale can keep customers coming back. Read on to explore four simple steps to an exceptional post-purchase experience.
4 Steps to a Standout Post-Purchase Experience
1. Provide Personalized Options
Deliveries and returns don't have to be one-size-fits-all. Today, there are more ways than ever to offer customers personalized options that make their lives easier while setting your brand apart.
29% of consumers say an easy return experience is the customer experience factor most likely to make them come back to a brand.
[1]
Some companies are focusing on providing more options for local customers in particular. For example, offering local courier pickup service can provide customers with a quick, stress-free return experience.
96% of consumers are more likely to purchase from online retailers or brands that offer free returns than from those that don't.
[2]
Other businesses have implemented tiered reward or point programs that provide loyal customers with exclusive perks and benefits—such as free expedited shipping, free returns or an extended returns window.
Pro tip: Even small enhancements, like adding a personal touch to your packaging, can help set your brand apart. Some companies include personalized or handwritten thank-you notes inside packages, or wrap products in eye-catching or branded paper.
2. Fine-Tune Your Tracking
Creating an organized tracking system is key to reducing delays and ensuring reliable delivery times.
Customers expect regular updates and transparency; communicate your shipping policies clearly and prominently on your e-commerce store, and provide peace of mind by offering tracking information. In today's digital age, customers may be tracking packages from smartphones, tablets or computers. Make sure your tracking system can be easily accessed in various ways and is optimized for mobile devices.
87% of customers say that real-time order tracking made their buying experience more enjoyable.
[3]
Customers who have purchased very expensive items will likely be even more concerned with having access to reliable, real-time tracking updates so they can be sure they're able to obtain their delivery quickly. To reduce the risk of "buyer's remorse," consider sending out periodic shipping notifications to remind them that something exciting is on the way.
Remember that many customers want to track their returns, as well—both to ensure the return arrives within the delivery window and to better estimate when they will receive their refund or credit.
Pro tip: USPS Tracking® allows both customers and businesses to easily track deliveries via text, phone and email, as well as through the USPS Tracking website and USPS Mobile® app. Certain options also allow you to receive proof of delivery, such as a customer signature.
3. Deliver Superior Customer Service
Seamless delivery, returns and tracking are critical for creating a positive post-purchase experience, but first-in-class customer service is just as important.
Companies must understand customer behavior, habits and expectations in order to provide service that is not only helpful but also "human." Today's customers don't want cold, robotic communications; they want a brand that values them and cares about their needs.
Study customer data closely and regularly to identify patterns and pinpoint preferences. Are there regular complaints about a certain aspect of the delivery process? Are more and more customers getting in touch via text rather than via email?
There are numerous tools and innovations available to help businesses better identify customer trends and gaps in service delivery. Artificial intelligence (AI)-enabled technologies, for example, can help businesses find patterns in customer communications, purchasing journeys, tracking and delivery habits, and psychographics such as values, interests and opinions.
The insights gleaned from this data can then be used to shape a more relevant, personalized customer service experience.
Pro tip: Consider ways to streamline and improve customer service while providing value to customers. Try including a frequently-asked-questions (FAQ) section on your website, for example. Or, if you have the resources, implementing AI-enabled chatbots can answer questions immediately while encouraging customer interaction.
4. Offer Peace of Mind With Premium Insurance
If your customers are paying for expedited shipping or purchasing high-value items, you may want to consider purchasing shipping insurance—allowing your business to be reimbursed for lost, damaged or stolen items and providing your customers with added assurance that the issue will be addressed and remedied immediately. USPS offers several options for added insurance, signature services and delivery confirmation.
If issues do arise, customers should be reimbursed or sent a replacement item, even if your business cannot recover the cost of the product. The shipping world today is buyer-centric, and customers expect businesses to cover the cost of products that don't make it to their doorstep or are damaged upon arrival.
This may mean your business ends up reimbursing for "friendly fraud"—when a customer says a product was lost or stolen but it wasn't, or damages a product themselves. Absorbing some of these costs is inevitable when creating a positive customer experience.
Pro tip: In the age of social media, there is simply too much opportunity for bad publicity to risk denying a customer reimbursement or replacement—even if you suspect "friendly fraud." Remember that brand perception and word of mouth play a major role in earning both new and loyal customers.
Key Takeaway
Today, the customer experience extends far beyond the actual point of purchase. From the time a product leaves the warehouse to the time it lands in customers' hands, each step can mean the difference between loyalty and loss. Customers expect more than a quick delivery; they expect meaningful communications and personalized service.
Focusing on four key areas of the post-purchase experience—customized deliveries and returns, transparent tracking, superior customer service and premium insurance options—can help your business stand out.