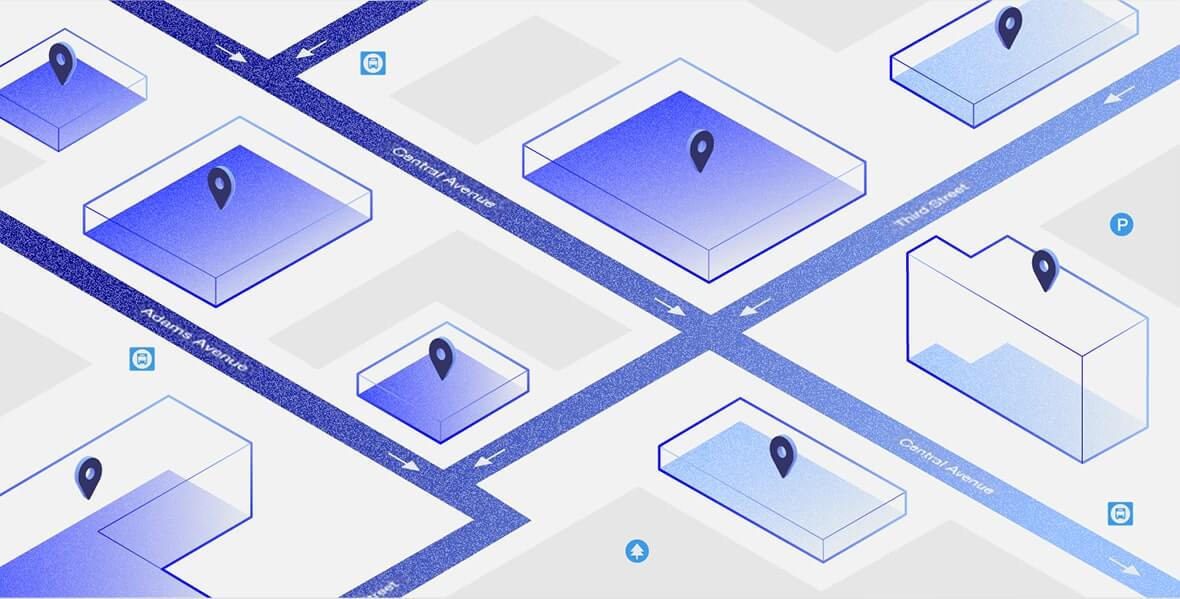 To bring in new business, you must first reach the right people. Every Door Direct Mail (EDDM®) campaigns offer a simple and affordable way to acquire new customers—and engage existing ones—within specific regions across specific demographics. Work through the steps below to learn how to create your first campaign.
4 Steps to Get Started with Every Door Direct Mail
Step 1

Choose Postal Routes for Your Campaign

First, you'll use the EDDM online tool to select certain postal routes, within certain ZIP Code™ areas, that you want your campaign to reach. From there, you can narrow down your target audience even further, selecting specific demographics: customer age range, household size and household income.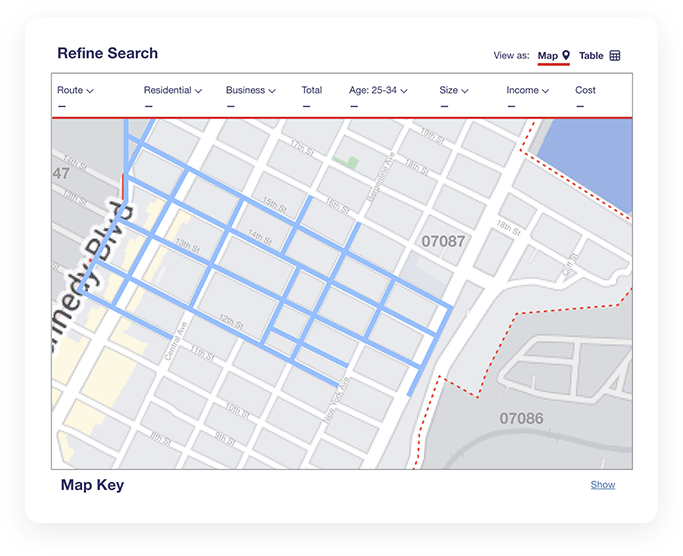 This allows you to focus only on the customers you think will be most interested in your campaign. If your mailpiece is announcing the opening of a new store, for example, you can choose only the postal routes closest to the new location. Or if you're advertising a very expensive, niche product, you may want to focus your campaign on nearby households with higher income.
Step 2

Determine Your Mail Drop-Off Date

Once you've selected your campaign route and chosen the appropriate customer demographics, you can decide what date you want your mailpiece to be dropped off at customers' residences. You can select a drop-off date up to 30 days in advance.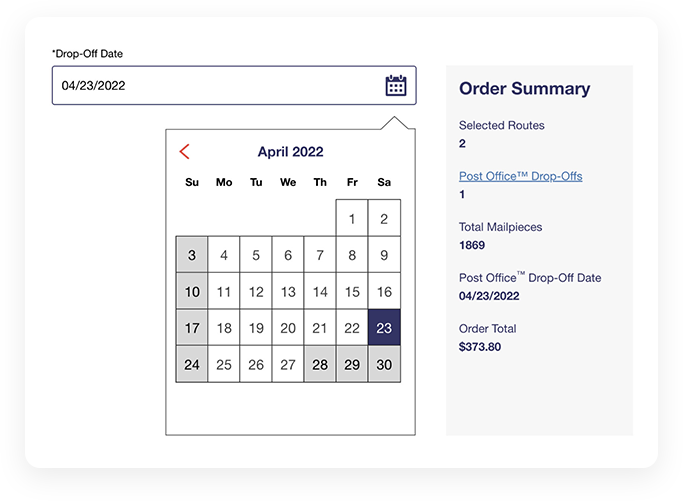 The ideal drop-off date for your campaign will depend on what you're aiming to achieve. If you're hoping to entice customers to attend an in-store event, for example, you'll probably want to provide a couple of weeks' notice. If you're announcing a flash online sale, you may want to ensure your mailpiece arrives just a couple of days beforehand.
Good to Know
Tuesday, Wednesday and Thursday may be the best mail drop-off days.[4] People tend to be most productive midweek and will likely be sorting through their mail on these days.[5] Fridays and Mondays, on the other hand, probably aren't ideal: On Fridays, many people are busy planning the weekend, while "Monday blues" may prevent them from opening their mail at all.[6]
What to Remember
Every Door Direct Mail marketing can help drive traffic to your local business—whether on foot or online. Choosing your mail drop-off date carefully can help ensure you get as many eyes on your campaign as possible.
Step 3

Pick Your Payment Options

Now that you've selected a mailpiece drop-off date, you can move onto the finances. At this point, you'll need to choose a payment method for your EDDM campaign.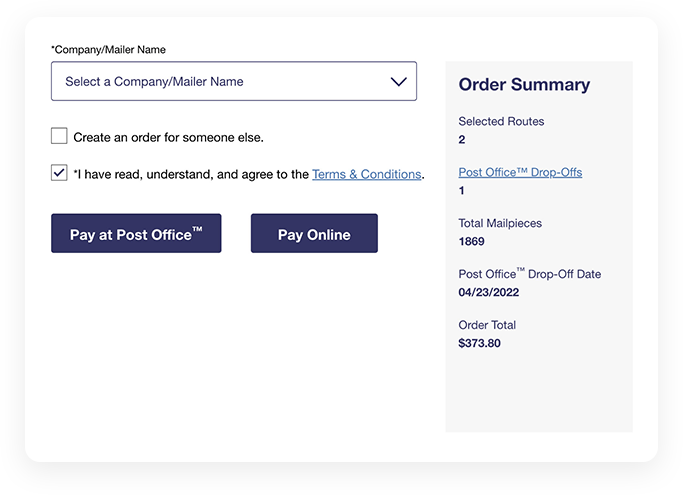 You have two options here:
Paying online with a debit or credit card, then presenting the order documentation as proof of payment at the Post Office™ facility when you drop off your mailing
Paying by cash, check or credit/debit card at the Post Office™ facility when you drop off your mailing
Good to Know
There are also two types of Every Door Direct Mail marketing available to meet different campaign and budgetary needs: EDDM Retail® marketing and EDDM BMEU. EDDM Retail marketing involves dropping off your mailing at a Post Office location, while EDDM BMEU involves dropping off your mailing at a business mail entry unit (BMEU). No postage permit is needed for EDDM Retail campaigns, and you are limited to sending out 5,000 mailpieces per day. With EDDM BMEU, you'll need a bulk mail postage permit. This allows you to send mail to many different routes with multiple Post Office locations.
What to Remember
Every Door Direct Mail campaigns let you spend efficiently on marketing while connecting you with your local community. With two different payment options—as well as two different service options (EDDM Retail marketing and EDDM BMEU)—you can choose what makes the most sense for your goals and budget.
Step 4

Find a Printer to Partner With

Finally, you'll need to choose a printer to help guide you through the EDDM printing process. You can choose a partner based on your specific needs. Some printers will work with you step by step through the entire mailing process, from mailpiece design to Post Office drop-off. If you just need assistance with certain aspects of your campaign, others can help solely with printing and Post Office preparation.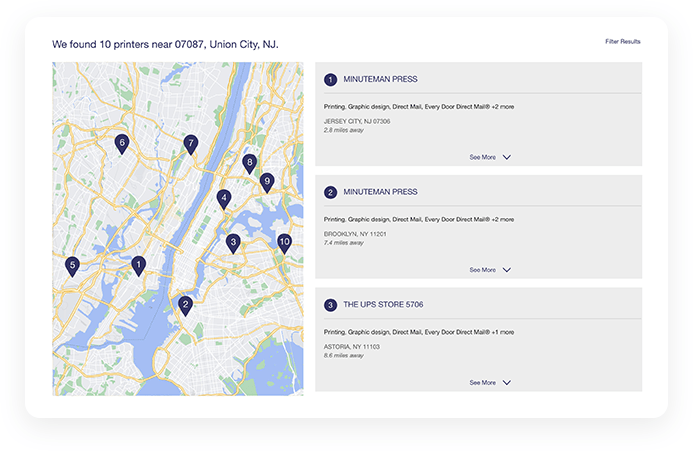 USPS.com® offers a directory to help you locate printers nearby, as well as printers you can work with online. Be sure to ask relevant questions before you begin, and compare various options. Ensuring the partnership is a good fit will help create a smooth and seamless process.
Good to Know
EDDM campaigns have various mailing, labeling, bundling and dimensional requirements. You can use the Every Door Direct Mail Quick Reference guide to familiarize yourself with them.
What to Remember
Direct mail printers can help you bring your Every Door Direct Mail campaign to life. Be sure to spend some time researching different companies and comparing their offerings before you make a decision.
Key Takeaway
Every Door Direct Mail campaigns make it easy to connect with the right customers, in the right area, at the right time—and they also make it easy for customers to support your local business.
By choosing residences along specific postal routes within specific ZIP Code areas—and then further refining based on various demographics, such as age and income—EDDM marketing allows you to zero in on the customers and prospects most likely to engage with your brand.
To create your first Every Door Direct Mail marketing campaign, start selecting your routes and filtering for demographics at USPS.com.