Free shipping for online purchases is practically a necessity in today's world, and it's especially important during the holidays when brand competition is fiercest. In fact, according to omnichannel customer engagement firm STARTEK, 88% of customers say free shipping makes them more likely to shop online[1]. Small business owners in particular are probably wondering how to use free shipping incentives to boost sales. But if the investment doesn't pay off, businesses could hurt their bottom lines by diminishing their net margins.
"88% of customers say free shipping makes them more likely to shop online."
It can be tricky to establish a balance between increasing sales volume and maintaining profit margins, but one way to do this is to set a minimum order value for the free shipping incentive. It's important for business owners to take time to carefully determine this value—when chosen wisely, a minimum order value for free shipping could be a huge boost to holiday sales. However, being unrealistic about how much customers are willing to spend can be detrimental to a growing business by driving away potential sales.
Here's what business owners might want to keep in mind when it comes to leveraging free shipping incentives during the busiest shopping season of the year:
How to Determine Minimum Order Value
Businesses that decide to implement free shipping with orders that meet a certain dollar value often struggle to determine exactly what that minimum threshold should be. If it's too high, businesses may not see much of an increase in sales volume and could potentially lose sales. If it's too low, it could put their precious profit margins at risk.
One possible way to determine an appropriate threshold for free shipping is to determine your average order value. Knowing how much an average customer spends per transaction can help give you a better idea of what your minimum order value for free shipping might be. Think of what the tipping point for you will be: Customers need to easily add items that will push them to the dollar amount that earns the free shipping.
According to a model developed by data analytics company RJ Metrics, the number of orders above the median order value statistically decrease, but setting a free shipping threshold may effectively motivate customers to spend more in order to avoid paying for shipping[2]. So if your average customer is spending $45 per order, consider, for example, setting the free shipping threshold at $60 to increase the number of orders you receive above $45. It is important to remain realistic when determining how much extra customers are willing to spend for free shipping. You may consider A/B testing two threshold amounts and measure their effectiveness to inform your decision (e.g. $50 threshold for free shipping vs. $60).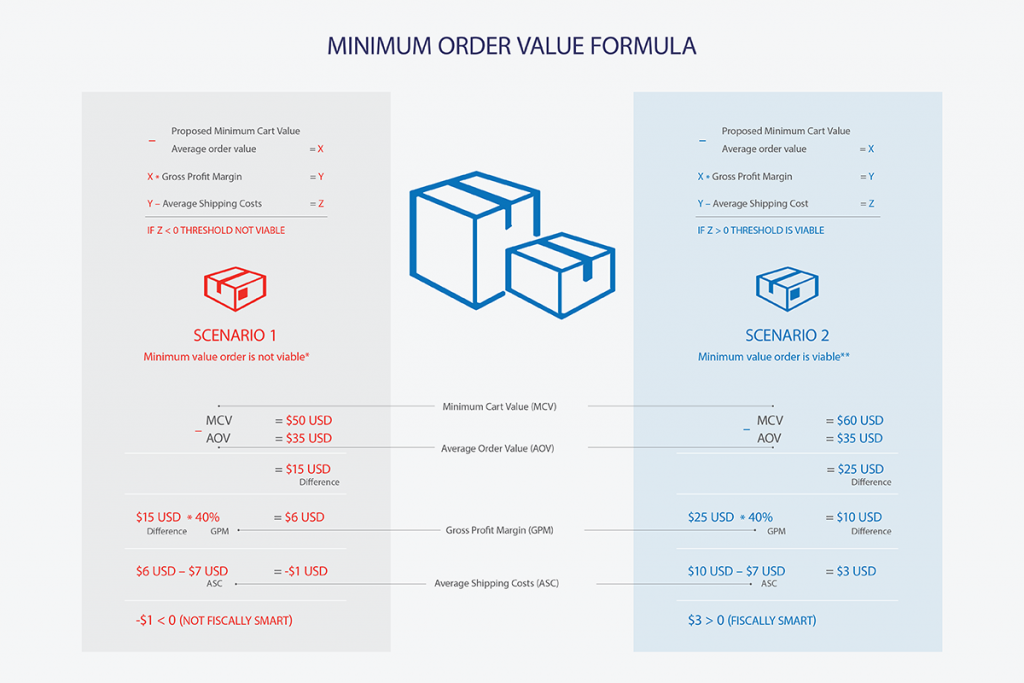 According to Atlanta-based SEO and analytics firm ShivarWeb, another way to set the threshold is to consider the following formula when attempting to set a minimum order value[3]:
Proposed minimum cart value – average order value = X
X * Gross Profit Margin = Y
Y – Average shipping costs = Z
If Z < 0, then the threshold is typically not fiscally smart
The above can help businesses set realistic minimum values. With some careful calculations and goal setting, the increase in sales could offset the business expense of free shipping.
Actively Test the Tipping Point
Once you discover the tipping point for free shipping, it's a matter of conveying your message to the people who visit your website. Consider alerting customers when they're close to the minimum order value for free shipping during the checkout process and/or dedicating a portion of the screen to quickly add items that will make up the difference could encourage impulse buys to meet the free shipping minimum.
While the holiday season is a great time for free shipping promotions, there's no reason to wait for this peak shopping time to implement a free shipping promotion. Maybe test the waters earlier in the year with short-term sales that use free shipping incentives to see if customers are willing to spend more than what was initially projected.
If you commit to understanding your customers' online buying habits, you could see improved conversion rates and increased profits. If they perceive value from what you offer with a free shipping promotion, they may be more likely to put additional items in their shopping carts. Start now to consider ways in which you can prepare for the 2016 holiday season and find more inspiration with the "A 4-Part Plan to Make 2016 Your Best Holiday Shipping Season."