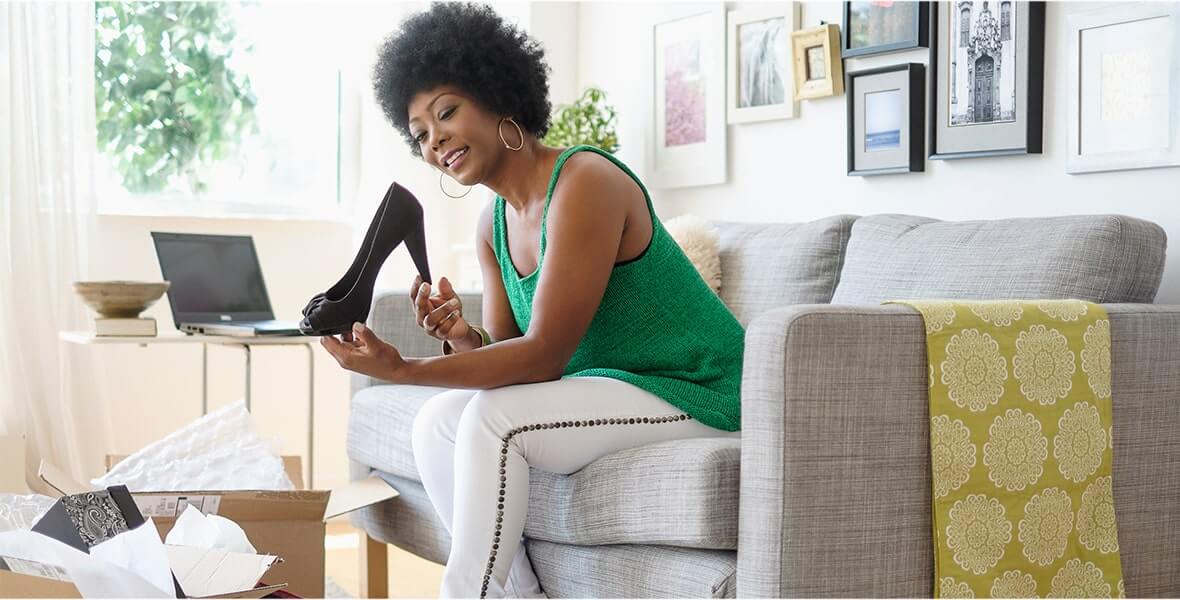 The decision to offer free shipping can be a difficult one. As with any business decision, retailers need to weigh the opportunities against the risks: On one hand, offering free shipping can drive sales and provide a competitive advantage for retailers; on the other, it may contribute to margin erosion and lead to increases in other logistics expenses.
Use these market insights and strategic models to determine whether free shipping makes sense for your business.
Free shipping matters to customers
Here are some crucial market insights on the importance of shipping costs to consumers:
41
%
of US internet users who have abandoned a digital shopping cart said they did so because of unexpected shipping costs.
[1]
94
%
of customers indicated that their decision to purchase was somewhat or greatly impacted by shipping costs.
[2]
65
%
of consumers surveyed said they look up free shipping thresholds before adding items to their online shopping carts.
[3]
Six ways to offer free shipping
As this information illustrates, shipping costs can weigh particularly on a consumer's spending decisions. That's why the value of free shipping should be a key consideration when looking at both the customer experience and a business's sales margins.
Every online retailer should look at incorporating a free shipping strategy into their transactional model. Try and test some of these models to see which is optimal for driving sales while preserving profit margins.
VIP membership
For loyal customers, consider offering an annual premium or VIP membership with free shipping at the center of its value proposition.
The membership fee can help absorb shipping costs while building a stronger customer base. Plus, membership programs can boost the average transaction value while having a positive impact on customer retention, loyalty and lifetime customer value.
Free shipping threshold
Use minimum order values to implement free shipping. Determine that threshold based on average order values, gross profit margins and shipping costs.
Limited-time promotions
Use free shipping instead of discounts to build out special offers. For example: consider offering free standard shipping for any order over $40 from December 1 through December 24 to drive holiday season sales. Or when moving seasonal inventory, offer free shipping for orders of a certain amount containing items on clearance.
Email or mail-only promotions
Communicate free shipping offers to specific groups of customers through email or direct mail. Send a postcard with a promo code for free shipping to key local demographics using the Every Door Direct Mail® service, or offer it to email subscribers who previously purchased from the store.
Products with benefits
Offer free standard shipping on high-margin or easy-to-ship products. This may require the creation of rules and exclusions for hard-to-ship or low-margin products to help protect overall margins. Try building a matrix that plots every one of your products based on its margins and shipping difficulty.
Doing this can help a business identify which products or product categories can be included in the free shipping program. Also, clearly communicate the determined shipping rules and exceptions to customers so that they will better understand and not be surprised by them later.
Consider these sample benchmarks:
Higher Shipping Difficulty, Low Margin
Not ideal for free shipping
Bulkier, low-margin items—such as large electronics—are not ideal for free shipping. Other sales strategies are recommended.
Higher Shipping Difficulty, High Margin
Occasional free shipping
Larger but higher-margin products, such as artworks or decor items, are viable for free shipping on occasion.
Lower Shipping Difficulty, Low Margin
Occasional free shipping
Small, easy-to-ship items, like office supplies or consumer electronics, are ideal for occasional free shipping offers.
Lower Shipping Difficulty, High Margin
Viable for free shipping
Small, lightweight items that are less expensive to ship, such as apparel or shoes, have high viability for free shipping.
Free shipping as a commodity
As free standard shipping becomes more common, expedited and overnight delivery options can be leveraged as value-adds against standard shipping.
Design a checkout process that drives customers toward next-day or two-day delivery. This can shift a significant number of them toward premium shipping options in the final stages of their transaction.
Key Takeaway
For many businesses, offering free shipping is a winning strategy that drives sales and profits. But, the ways in which these offers are implemented may differ from retailer to retailer based on their bottom line. It is important to understand why and how free shipping inspires different customer behavior. Then, develop a simple process to test, measure and adjust to ensure that it elevates and strengthens your business.