Should your business offer free shipping? Opinions on the matter are mixed. On the one hand, offering free shipping may help drive sales and provides a competitive advantage for retailers, but on the other, free shipping may contribute to margin erosion. So which is it: Opportunity or risk? A lever to drive more sales or a margin killer? As with most difficult questions, the answer may fall somewhere in the middle. Let's see if we can shed some light on how to possibly provide the potential for free shipping while looking to minimizing its risks.
Let's start by looking at some crucial market insights from a recent eCommerce study conducted by VWO[1]. Based on consumer surveys:
The top reason why online shoppers abandon their shopping carts before making a purchase is higher than expected shipping costs.
Almost two thirds of online shoppers chose the cheapest shipping option.
Less than 5% of online shoppers claim that they don't care about shipping costs.
24% of shoppers are ready to spend more to qualify for free shipping.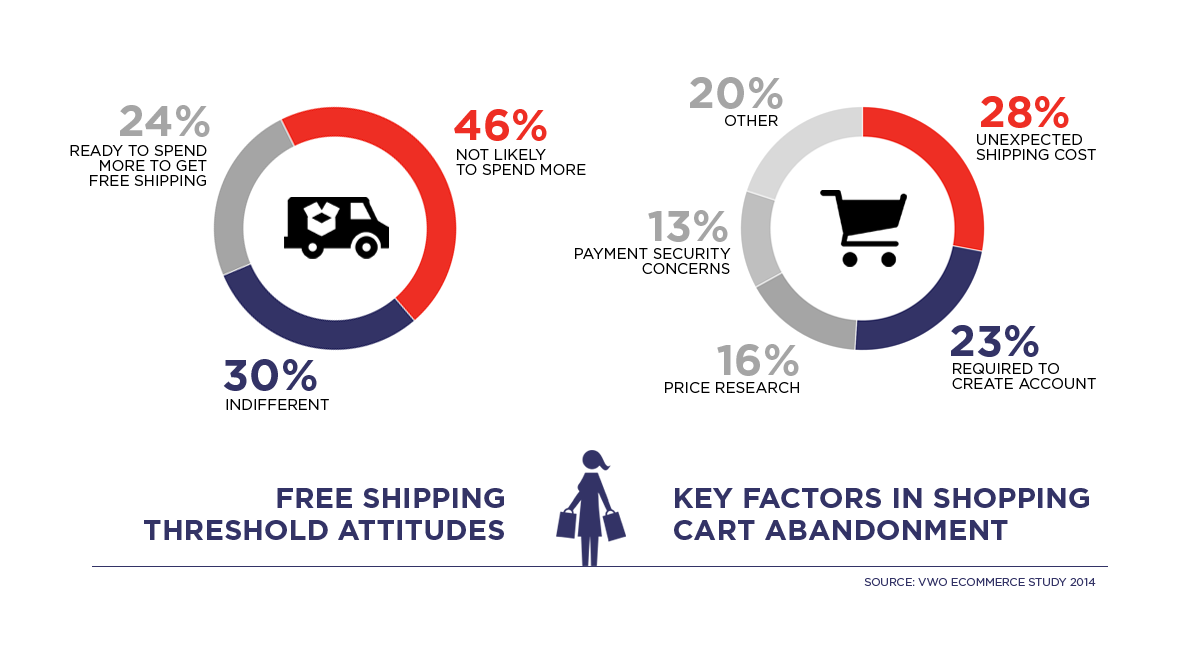 Free-Shipping Models
Armed with this information, we can conclude two things: First, online retailers should not make the mistake of treating shipping costs as an afterthought or a secondary consideration. Shipping cost should be a key consideration when looking at both the customer experience and sales margins. Second, now more than ever, every online retailer should look to incorporate some kind of free shipping strategy into their transactional model, then carefully test and optimize it with an eye towards maximizing opportunity (driving sales) while minimizing risk (eroding margins). Here are six ideas to help you do just that:
VIP Membership
Consider offering an annual premium or VIP membership to your best customers, and put free shipping at the center of the membership's value proposition. The membership fee can help absorb shipping costs. Bonus: membership programs of this sort tend to drive average transaction value and buy rate, as referenced above, and can have a positive impact on customer retention, loyalty, and lifetime customer value.
Threshold-Based Free Shipping
Establish minimum order values for free shipping. (Free standard shipping for orders over $50 or $100, or whatever amount makes sense.)
Limited-Time promotions
Retailers can put free shipping instead of discounts at the center of special offers. For instance, to drive Holiday season sales, you might consider offering free standard shipping for any order over $40 from December 1 through December 24.
Email or Mail-only Promotions
These are similar to Limited-Time Promotions, but instead of making the promotions available to all customers, you can communicate them only to your best customers via mail or email.
Products with Benefits
Offer free standard shipping on high margin and/or easy-to-ship products. You may have to set up rules and exclusions for hard-to-ship and/or low-margin products that will help protect your overall margins. One way to address this problem is to build a product matrix that plots every one of your products along low margin/high margin and easy to ship/difficult to ship axes: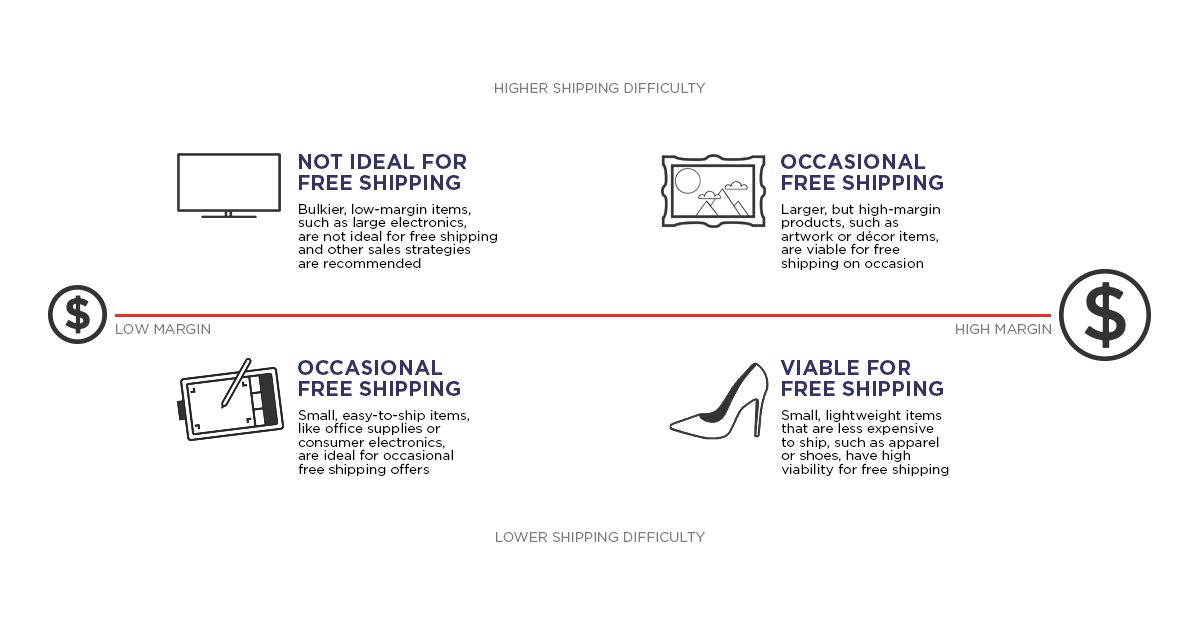 Doing this will help you identify which products (or product categories) should not be included in your free shipping program (products weighing more than 5lbs, for instance). If you communicate your shipping rules and exceptions to your customers early and clearly, they will better understand them.
Commoditized free shipping
Online shoppers can be impatient and prone to favor immediate gratification. As free standard shipping becomes increasingly commoditized, expedited and overnight delivery options can be leveraged as a value-adds against standard shipping. This means that while free standard shipping may keep up to two thirds of online shoppers from abandoning their carts before making their purchase, designing a checkout process that drives customers towards next-day or 1-2 day deliveries could shift a significant number of them to premium shipping options in the very final stage of their transaction. (Tip: Impulse purchases aren't limited to products.)
Conclusion
Since either minimizing or eliminating shipping costs for standard delivery can create significant lift in both revenue and customer lifetime value, perhaps the question shouldn't be whether or not the adoption of free shipping makes sense, but rather how to best incorporate it strategically without going overboard (by either contributing to margin erosion or potentially "wasting" free shipping offers where it may not be needed). Understanding why and how free shipping may drive the right types of customer behaviors and the desired outcomes, then developing a simple process of testing, measuring and adjusting those strategies as needed may be a good a place to start. Hopefully, some of the insights and ideas outlined in this article will help you do just that.