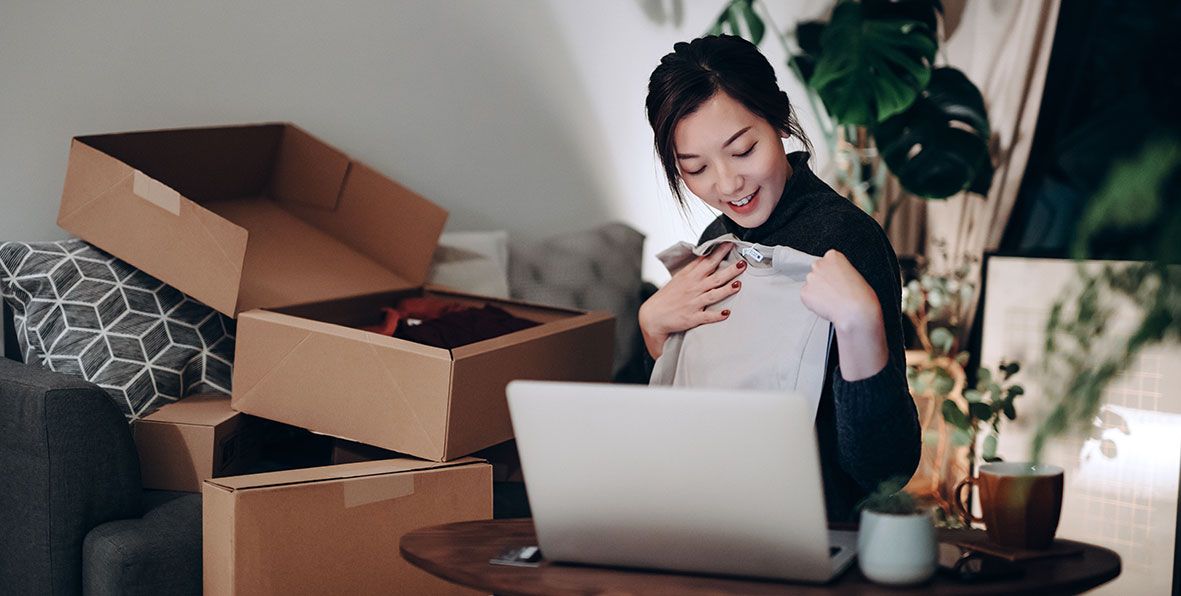 Today's customers have more shipping options than ever before. To set your company apart from the competition, you must offer something unique. Providing a "try-before-you-buy" (TBYB) option can be the differentiator you need to stand out.
Read on to discover how try-before-you-buy programs can benefit both your customers and your brand.
What Is Try Before You Buy?
Try-before-you-buy programs are exactly what they sound like: They allow customers to try out a product before committing to payment.
This option is often offered to customers ordering online, meaning they place an order for an item, have it shipped directly to them, try it in the comfort of their own home, then pay for it only if they wish to keep it—and if they don't, simply ship it back.
Key benefits of try before you buy for customers include:
Added convenience
Increased flexibility
No wait for refund
More immediate gratification
Streamlined experience
Low pressure
Low risk
Some brands even use augmented reality (AR) or virtual reality (VR) on their sites or apps, so customers can see how certain products will look on them or in their homes. AR and VR allow virtual images to be overlaid on real-life images.
For example, one well-known direct-to-consumer eyewear brand has an app that allows customers to virtually try on glasses using their smartphone cameras. This brand also offers customers the option to order several pairs of glasses with free delivery, use a free return label to send back whichever pairs they don't like, and pay only for the pairs they want to keep.
A popular interior design app also offers TBYB, so customers can see how certain pieces—from sofas to nightstands to works of art—will look inside their homes.
How Can Try Before You Buy Benefit My Brand?
Establishing a try-before-you-buy program is clearly a boon for customers. But it can also bring big benefits to shippers themselves:
Reduced return rates

Although it may seem illogical, adopting a try-before-you-buy program can decrease your number of returns. Allowing customers to try various products with ease and decide what works best for them—without the pressure of committing to a purchase—means they're more likely to find something they like.

Opportunity to test new products

Offering TBYB can also help you test the success of certain products. By analyzing try-before-you-buy order and return history, you can see which items were kept most often, and which were returned. Asking customers to fill out a simple form that indicates their reason for a return can also help identify areas for improvement.

Better brand perception

Offering customers increased flexibility can help establish your business as a forward-thinking, customer-first brand. This can drive positive reviews and encourage organic word-of-mouth recommendations.

Ability to attract and retain customers

Providing TBYB can also help in acquiring new customers—people who may not have noticed your brand before but are drawn in by the ability to try items before committing. And when these customers realize the unique convenience and flexibility afforded by TBYB, they may very well become repeat customers.

Competitive advantage

TBYB is becoming more popular, but it's certainly not the norm. Providing customers with options that work for their lifestyle can help your brand stand out, swaying customers to choose you over your competitors. For younger consumers in particular, the immediate gratification and added reassurance provided by TBYB can make a big difference.
How Can I Implement Try Before You Buy?
If you're considering implementing a try-before-you-buy program, it's important to understand how it may affect inventory management. Focus on creating a well-connected, streamlined inventory system that takes all sales channels into account. Disorganization can lead to lost sales, so careful planning is paramount.
Due to the unique challenges involved in managing TBYB inventory, many brands use third-party services to keep track of what's actually in stock and available for try-on. If you choose to go this route, start by researching potential partners, and take the time to work through all potential risks and challenges—such as higher shipping costs, fraud concerns and more complex logistics.
Finally, ensure your entire team is on board with a TBYB program. Finance, logistics, merchandising, marketing, customer service and IT should all be aligned and well-versed in what this change will mean for their department and the company as a whole.
Key Takeaway
When it comes to returns, customers expect options. Offering a try-before-you-buy program can provide them with the flexibility they desire. Not only can this bring down return rates, but it can also set you apart—establishing your brand as future-forward and customer-first.