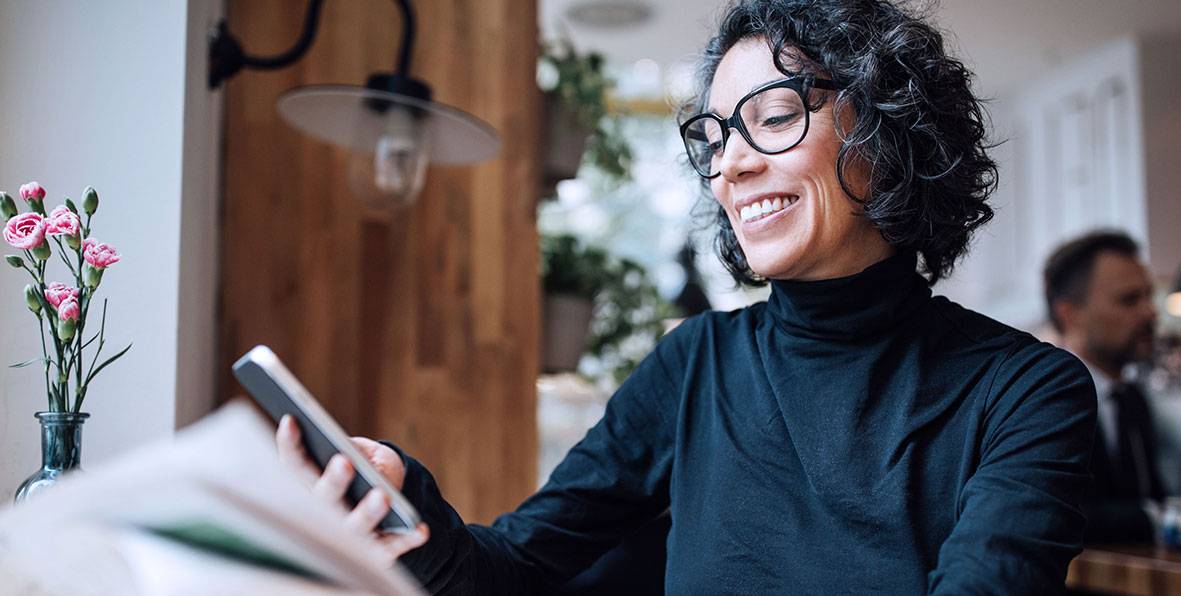 Direct mail can be a powerful tool in an omnichannel marketing strategy, offering customers a uniquely personal, tactile experience in a digital-first world. However, many marketers struggle with establishing effective metrics to track and measure the success of direct mail.
The Informed Delivery feature allows you to easily connect direct mail to your digital marketing efforts, so you can see who's interacting with your campaign, and how.
How Informed Delivery Digitizes Direct Mail
The Informed Delivery feature is a free notification feature that provides eligible USPS customers the option to see a digital preview of their incoming mail—viewable via email notifications or the online dashboard.[1]
By adding a digital element to direct mail marketing, the Informed Delivery feature allows you to create multitouch omnichannel campaigns that keep your brand top of mind and encourage your customers to act.
90% of consumers would recommend Informed Delivery notifications to friends, family or colleagues.
[2]
Here's how Informed Delivery notifications can benefit your brand:
1. Adds an Enticing Digital Touchpoint
Customers who sign up for free Informed Delivery notifications receive a grayscale digital preview of mailpieces they're scheduled to receive that day.
In addition to this preview, they can also view any ride-along content you've chosen to include. "Ride-along content" refers to supplemental digital content relating to the contents of your mailpiece. For example, if your mailpiece is advertising an upcoming sale, the ride-along content could provide a link to exclusive early access through your e-commerce site.
This ride-along content is displayed as an image, so you can design it to stand out and entice your customers to click. A strong call to action should be included, as well—such as "Claim Your Discount" or "Sign Up Now."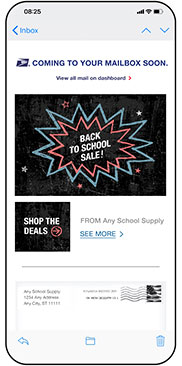 This additional digital touchpoint helps build excitement for the actual mailpiece and gives customers another chance to engage with your campaign.
2. Provides Relevant Data
The Informed Delivery feature also provides businesses with valuable customer data. Through the USPS web-based Informed Delivery portal, businesses can see how customers are interacting with their campaigns, providing important information on:
Informed Delivery email opens
Click-throughs on any ride-along content you include
Number of mailpieces sent to Informed Delivery households
Dates that mailpieces were processed for delivery
ZIP Code™ numbers of Informed Delivery households
The insights you gain from this data can then be used to shape future campaigns, identify areas for improvement and optimize your marketing spend.
For more details on initiating an Informed Delivery campaign and Informed Delivery Mail Tracking and Reporting, visit the Informed Delivery Interactive Campaign Guide.
3. Brings in More Leads
Any ride-along content you include in Informed Delivery notifications will be connected to a specific URL. This could lead to your e-commerce store, a newsletter, event sign-up or your social media account—basically anything you want your customers to engage with.
To enhance the quality of the data you gain from these campaigns, consider using vanity URLs for your ride-along content. Vanity URLs—sometimes referred to as custom short URLs or branded URLs—can help you keep track of who is interacting with your campaign. There are several websites you can use to set up a vanity URL.
Vanity URLs are short, easy-to-remember URLs unique to a specific campaign; using them in ride-along content allows you to see who has interacted specifically with the campaign, as well as how long they stayed on the web page and what they interacted with. This data can then help shape future marketing efforts.
The Informed Delivery feature can also simply provide you with a unique URL for your ride-along content—referred to as Informed Delivery URL parameters. When you opt in, the campaign Mailer ID (MID), as well as a serial number associated with any click-throughs, will be added to the end of the actual URL.
This enables you to capture valuable data on how customers are interacting with your Informed Delivery campaigns, allowing you to further personalize your marketing efforts.
Key Takeaway
Seamlessly connecting direct mail to digital marketing, the Informed Delivery feature offers a free, easy way to create well-connected and well-integrated omnichannel campaigns.
By providing a digital preview of incoming mail, plus any related digital content you choose to include, Informed Delivery notifications encourage customers to act while helping to keep your brand top of mind.
Ready to get started? Head to the interactive Informed Delivery tutorial to begin setting up a campaign.