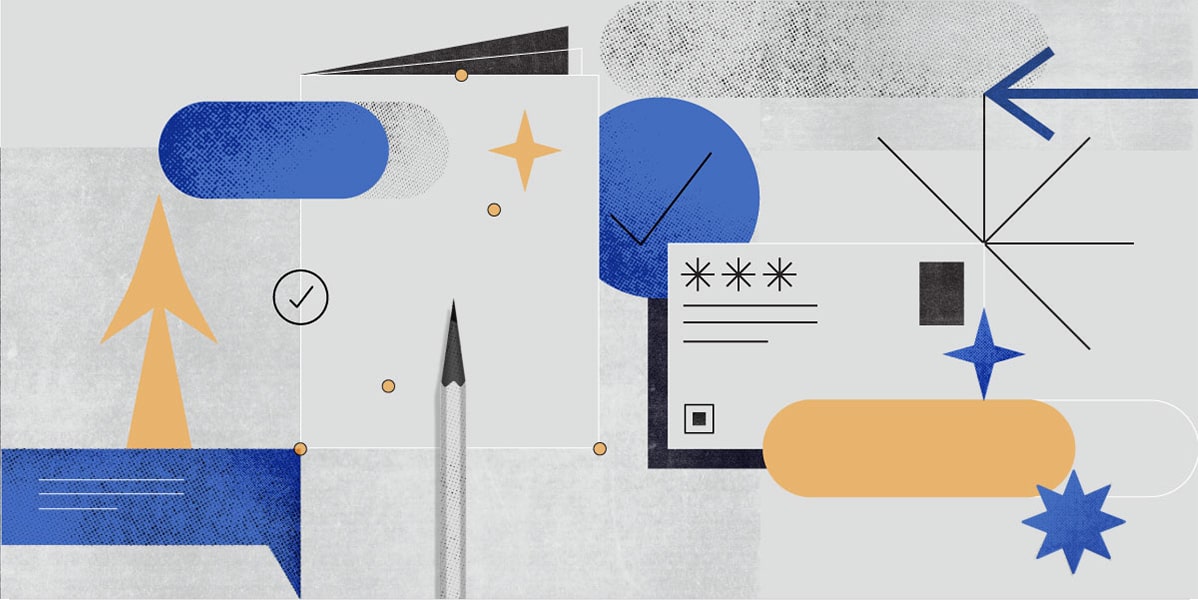 Today's marketers have endless options for creating great campaigns—but this can make it hard to figure out how and where direct mail fits in.
Should it be treated like a science, with a focus on tracking and metrics to prove it's working? Or more like an art, with a focus on creative, and a more intuitive approach overall?
USPS commissioned proprietary interviews with marketers, small business owners, and printers at well-known companies to discover what kinds of brands use direct mail, how they think of it in relation to other mediums, and how they create effective direct mail campaigns.[1]
The results were varied and diverse, but one underlying theme emerged: Direct mail should be leveraged as both an art and a science.
Privacy Act Statement:
Your information will be used to understand the needs of customers and improve USPS sales and marketing efforts. Collection is authorized by 39 U.S.C. 401, 403, and 404. Supplying your information is voluntary, but if not provided, we may not be able to fulfill your request. We do not disclose your information to third parties without your consent, except to act on your behalf or request, or as legally required. This includes the following limited circumstances: to a congressional office on your behalf; to agents or contractors when necessary to fulfill a business function; to a U.S. Postal Service auditor; for law enforcement purposes, to labor organizations as required by applicable law; incident to proceedings involving the Postal Service, to government agencies in connection with decisions as necessary, to agencies and entities for financial matters, and for customer services purposes. For more information regarding our privacy policies visit
www.usps.com/privacypolicy
Doing Direct Mail Right
Discover how your brand can get started with a direct mail campaign that captivates and converts.
Why Mail Is Making a Comeback
Unsurprisingly, marketers have varying views on direct mail marketing. Some think of it as an antiquated medium and are unsure if it's worth the investment. Others maintain it's an underrated, highly effective way to grab customers' attention.
Many marketers believe that direct mail has an air of novelty in the age of digital. Most customers see countless digital ads every day—whether on their mobile device, TV or streaming device, laptop or desktop computer—resulting in "digital fatigue." A physical mailpiece, on the other hand, offers a uniquely tangible experience.
"Consumers can indulge their senses in a different way [with a mailpiece] that digital will never replace."

— Marketing manager at a major luxury goods holding company
Overall, there is a sense that mail is making a comeback, as customers increasingly welcome tactile engagement. And with COVID-19 continuing to affect daily life, this may amplify the desire for novel, tangible marketing experiences.
During lockdown, for example, many customers were at home far more often, and today, more and more people work from home full- or part-time. This means they may be paying closer attention to what's coming in the mail, and feel nostalgic—and more receptive to—traditional ways of maintaining human connection.
Back to Menuarrow_right_alt
Which Brands Are Using Direct Mail
The research showed that the brands using direct mail tend to be open to experimentation, with leadership teams that think outside the box. A solid system of support is also important; most brands leveraging mail have strong partnerships with any agencies, printers, carriers, letter shops or other businesses they work with.
Other brands more likely to make use of direct mail include:
Businesses with a wealth of customer data at their disposal, including retail, hospitality and insurance companies.
Lifestyle brands.
More mature, established brands.
Brands with a customer base less likely to be online, such as older customers or the digitally fatigued.
Small businesses.
These companies use direct mail for both short-term strategies (e.g., acquiring new customers or encouraging a purchase) and long-term strategies (e.g., brand building, engagement or retention).
While the benefits can be impressive, some marketers are still hesitant to incorporate direct mail into their campaigns, citing concerns over cost (in particular, the cost of paper and postage), quality of data and tracking, lack of knowledge and experience, the amount of time it may take, and sustainability/waste.
These are valid concerns, but many businesses are simply unaware of the steps they can take to achieve sophisticated tracking and measures of success, as well as the eco-friendly options and affordable options available today. Read on to learn more.
Back to Menuarrow_right_alt
How to Measure the Success of Direct Mail
Done right, direct mail marketing can lead to higher-quality leads than digital marketing.
Thanks to advancements in data tracking and analytics, it's easier than ever to create highly targeted, personalized mailpieces. An integrated approach combining both direct mail and digital is most effective.
"If the [mailpiece] is applicable to [your customers], [it's] often on their countertop and gets pinned up on the fridge, and you get that repeat messaging, which is really important."

— Director of marketing at a ski resort
The professionals interviewed agreed across the board that a targeted, personalized approach is essential for success. However, some still see it as a challenge and lean on the "spray-and-pray" approach, sending out mailpieces at random and hoping for success. This most often occurs due to:
Rigid, "old-school" ways of thinking within the company.
Lack of technology.
Lack of data or poor-quality data.
Disjointed teams or processes.
With the right attribution metrics in place, even the smallest businesses can track the impact of their mail campaigns. Some of the most popular ways to track direct mail include:
QR Code® Technology
Many of the marketers interviewed said they use QR Code[2] technology for direct mail attribution. These barcodes can be scanned with a smartphone or other mobile device, so customers can quickly open a link—whether leading to your e-commerce store, an announcement for an event, or a special discount code.
You can then see how many customers scanned the code, the location (city/state) and time of the scans, and the type of device used to scan. This can provide you with valuable information on who is interacting with what in your mail marketing, allowing you to create more relevant campaigns.
Unique Phone Number
If your target customers are older or potentially unlikely to regularly use smartphones or mobile devices, you may want to consider including a telephone number in your mailpiece.
This number should be unique to the campaign, so you know for sure that any customer using it saw it on your mailpiece.
Vanity or Personalized URLs (PURLs)
Personalized URLs are unique to each recipient, so you know exactly which customer acted after receiving your mailpiece. Once they visit the PURL, they land on a web page personalized for them—perhaps including their first name, for example. Not only does this help you track your campaign, but it also helps make your customers feel special.
Vanity URLs, on the other hand, are not unique to each recipient but are unique to the campaign overall, so you can be sure people using that URL found it on your mailpiece.
Customer Referrals
The marketers interviewed also emphasized the importance of referrals. To reach new audiences, it's important to make use of your current list of customers—often referred to as a house list.
For example, if you're opening a new location and want to reach an audience in this area, you could send out a mailpiece to both existing customers and prospects announcing the location and offering a special discount for anyone who refers a friend or family member.
This helps you gain access to new customers while incentivizing existing customers to engage with your brand—and perhaps lead them toward another purchase.
In addition to attribution metrics, you should define your overall campaign goals—such as increasing loyalty or acquiring new customers. These goals will help you decide on the key performance indicators (KPIs) you use to measure success:
Response Rate
Response rate measures how many people responded to or engaged with your mailpiece—whether through a QR Code, a telephone number, a PURL or something else. It's important to assess all types of responses received so you can get a better idea of how your customers like to interact.
To calculate response rate, simply divide the number of responses received by the number of mailpieces sent out:
Response Rate = Number of Responses ÷ Number of Mailpieces Sent
Conversion Rate
Conversion rates show how many customers actually took the action you wanted them to—such as making a purchase, booking a stay or making an appointment.
To calculate your direct mail conversion rate, use the formula below:
Conversion Rate = Number of Orders ÷ Number of Responses
Customer Acquisition Cost (CAC)
Customer acquisition cost refers to how much it costs to bring in each new customer through your direct mail campaign. This can then be compared with the CAC of other marketing efforts and can also help guide your marketing budget.
Here's how to calculate CAC:
Customer Acquisition Cost = Campaign Cost ÷ Number of Orders
Return on Investment (ROI)
Probably the most well-known direct mail KPI, ROI measures the profitability of a campaign, comparing how much you spent on it to how much you earned. ROI is important, but it doesn't fully capture other, longer-term elements of success—such as loyalty and brand perception.
Here's the ROI formula:
Return on Investment = (Revenue – Campaign Cost) ÷ Campaign Cost
"I see the value in [data and analytics], and I think they have really helped us target the right customers, [rather than using] the old 'spray-and-pray' method where you're just [sending out mailpieces] to anyone, hoping it's the right customer."

— Tactical marketing manager at a major agricultural and heavy machinery manufacturer
Back to Menuarrow_right_alt
How to Create Meaningful Direct Mail
Campaign attribution and measurement are paramount for understanding what resonates best with your customers, allowing you to then tailor marketing accordingly.
But as all the marketers interviewed emphasized: Direct mail is not just a science—it's also an art.
Campaigns should capture your customers' attention and make them want to learn more about your brand or your offerings. To ensure you don't sacrifice creativity, keep these top tips in mind:
1. Know Your Customers
If you don't know your target audience, you won't have much luck truly connecting with your customers. Use data to better understand them—their preferences, habits, values and desires—and create campaigns that speak directly to them. You may also want to send out surveys to your most active customers—perhaps with an incentive—to learn more about them.
"That emotional connection that people have with physical mail—I think that is really strong."

— VP creative director for health care and public sector organizations
Are your ideal customers millennials looking to support brands that "give back"? Budget-conscious consumers always on the lookout for a deal? High-income professionals who put self-care first? Put yourself in their shoes and create a campaign they can't ignore.
2. Send Mail Worth Saving
Digital ads have their place in omnichannel strategies, but they're usually ephemeral. Direct mail is physical; it can be handled, saved and displayed. Use this to your advantage and think outside the box.
Including branded calendars, magnets, notepads, bookmarks and much more can give your campaign lasting power and help keep your business top of mind. One interviewee, for example, created an interactive and unique mail campaign for a major liquor producer: Customers received a card that could be planted in soil, and eventually would grow into an edible garnish they could use for their drinks.
If you have the resources, tapping into digitally enhanced mail that includes augmented reality (AR) and virtual reality (VR) technology can help create a showstopper campaign—allowing customers to simply tap or scan the mailpiece to launch an immersive digital experience.
3. Make It Easy to Engage
Creating a meaningful, memorable mailpiece is one thing; getting customers to respond is another. Carefully consider the best design and messaging for your campaign.
If you or your team have creative skills, put them to use. If you're not comfortable handling this yourself, start researching agencies or printers who seem to align with your goals and needs.
The specifics of your campaign will help determine the creative. Deals and discounts should be bold, to the point, and impossible to miss. A more complex, involved message—perhaps a political campaign—may require a bit more copy.
Remember to include a call to action (CTA) that makes it clear how customers can respond or take the next step.
4. Put a Spotlight on Sustainability
Today's consumers—especially younger ones—are increasingly concerned with sustainability.[3]
Consider simple ways you can create more eco-friendly direct mail marketing—whether by using recycled paper, paper sourced specifically from sustainable tree plantations, or even algae-based inks. Many "green" printers offer such options, as well as transparency around tree harvesting labor practices.
5. Don't Overlook Omnichannel
Direct mail can be a powerful marketing tactic. Combined with other mediums, it can be even more powerful. Focus on creating well-connected, integrated omnichannel campaigns that involve multiple channels.
This could involve direct mail, social media and online display ads, digital and traditional billboards, TV and streaming ads, email, text and much more.
Innovations like Informed Delivery® notifications let you easily connect direct mail and digital efforts, keeping customers in your brand ecosystem and allowing you to track their journey.
"You [have] different tools in your [marketing] toolbox. You have email. You have direct mail. You have trade shows. You have social media. If you're not using all of those, to a certain extent, you're missing out."

— Solutions marketing manager at a revenue cycle management services provider
Back to Menuarrow_right_alt
What's Next for Direct Mail
Direct mail has long been a marketing mainstay—and it continues to evolve as new tools, technologies and innovations allow for better tracking, better campaign integration and better results.
As we look to the future, hypertargeted, personalized campaigns will likely remain at the forefront, for both direct mail and marketing in general. Customers want to feel understood and appreciated, and personalized campaigns that offer exactly what they need won't go unnoticed.
Advanced innovations may also become more prevalent, such as video-in-print, which allows small video screens to be directly embedded in print ads.
In general, future-forward marketers should keep sensory and textural innovations on their radar. Scratch-off, chalkboard, velvety and raised elements are just a few of the textural options to explore. Even scented elements can be included—for example, aromatherapy-infused mailpieces to advertise a spa's new offerings.
Finally, sustainability is likely to remain a key concern for marketers as consumers become more attuned to the environment and how businesses can help. In fact, one-third of U.S. online adults say they spend more time thinking about the climate than they did before COVID-19.[6]
Back to Menuarrow_right_alt
Key Takeaway
Incorporating direct mail into your omnichannel marketing can grab customers' attention when it matters most—providing them with a novel, tactile experience that puts your brand directly in their hands.
As you work to create your direct mail campaign, refer back to this guide to gain inspiration from the high-profile professionals finding success with direct mail, learn how to track attribution and calculate key performance indicators, and refresh yourself on the key elements of a creative, eye-catching campaign.
Pretty soon, you'll have a direct mail marketing strategy that taps into both the art and the science of this ever-evolving medium.