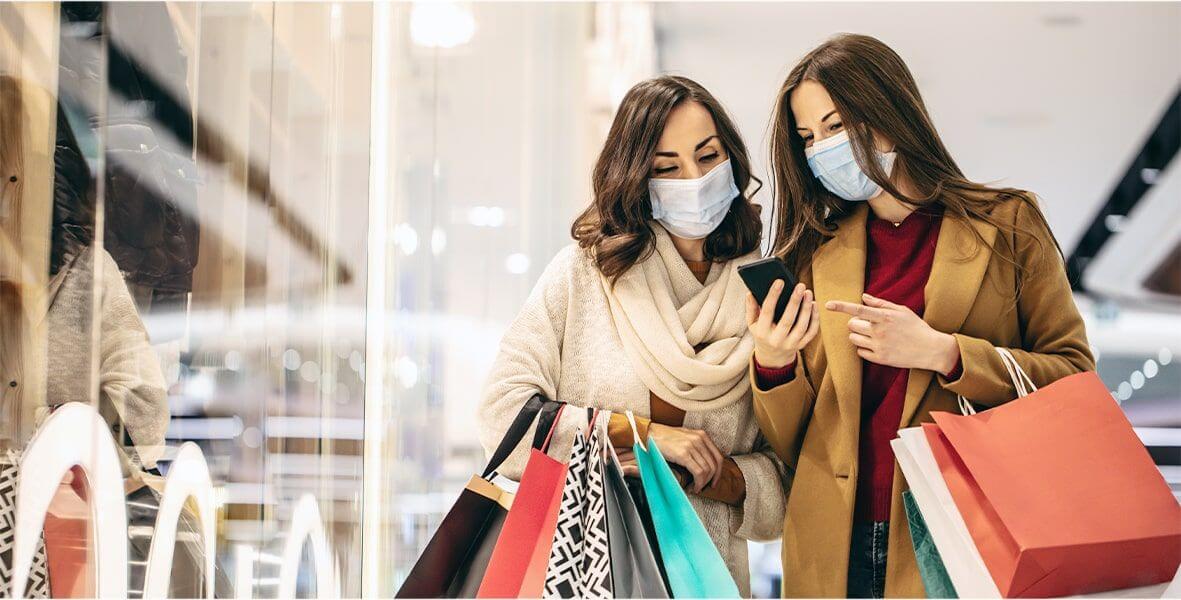 As COVID-19 continues to change the way we do business, e-commerce professionals must stay up to speed on customers' shifting behaviors and habits. For many brands, it can be difficult to tell which consumer shopping trends are here to stay, and which will be fleeting. In short, uncertainty is still driving many e-commerce decisions—for consumers and businesses alike.
One thing, however, has remained constant since the beginning of the pandemic: the surge in e-commerce sales.[1] Read on to further explore how shopping and e-commerce have evolved—and what to expect going forward.
Consumers Are Shopping—and Spending—More
The COVID-19 pandemic has shifted consumers' shopping behavior—both in terms of how much money they're spending and where they're spending it.[2] In fact, consumers are actually shopping more often; about half of consumers are spending more online than they were pre-COVID.[3]
49

%
of consumers say they are spending more money shopping online than they were before COVID-19.
[4]
What exactly are they buying? In 2021, e-commerce consumers spent more on books, music, videos and electronics.[5] E-commerce in general is also expected to grow by 13.7% this year, reaching $908.73 billion.[6]
Consumers are also being more selective in where they spend their money, with more than two-thirds of them saying the pandemic has made them more conscious consumers.[7] In fact, 65% are now supporting small or local businesses whenever possible, and 39% are researching brands' practices and values to ensure they align with their own values.[8]
Looking Ahead at Shopping and E-Commerce Trends
With the future remaining uncertain, it's more important than ever for businesses to improve their processes and keep abreast of consumer trends. In many cases, this may mean adjusting strategies and operations to better meet customer expectations, needs and concerns.
Looking ahead, a few common themes emerge. While growth in e-commerce will continue to outstrip in-store sales, customers report still wanting to shop in brick-and-mortar stores, with store-based sales bouncing back to prepandemic levels over the course of 2021 and 2022.[9] To meet both online and in-person shopping needs, it's crucial to create a well-connected, personalized omnichannel experience that speaks directly to customer preferences and needs.
Following a spike in 2020, sales from businesses with e-commerce and brick-and-mortar operations are expected to continue growing faster than sales from strictly e-commerce businesses.[10]
Big-budget purchases are on the horizon for many consumers as they begin to spend more on travel,[11] furniture,[12] and home improvement.[13] They're also buying homes, with total existing-home sales up by 5.6% in 2020.[14]
Key Takeaway
As consumers begin to adjust to "the new normal," spending is rebounding following a dip in sales during the beginning of the pandemic, when many consumers were living more frugally.
Now, as new variants emerge and the months ahead remain uncertain, e-commerce businesses must look to the data to help guide their decision-making and create a convenient and seamless customer experience.