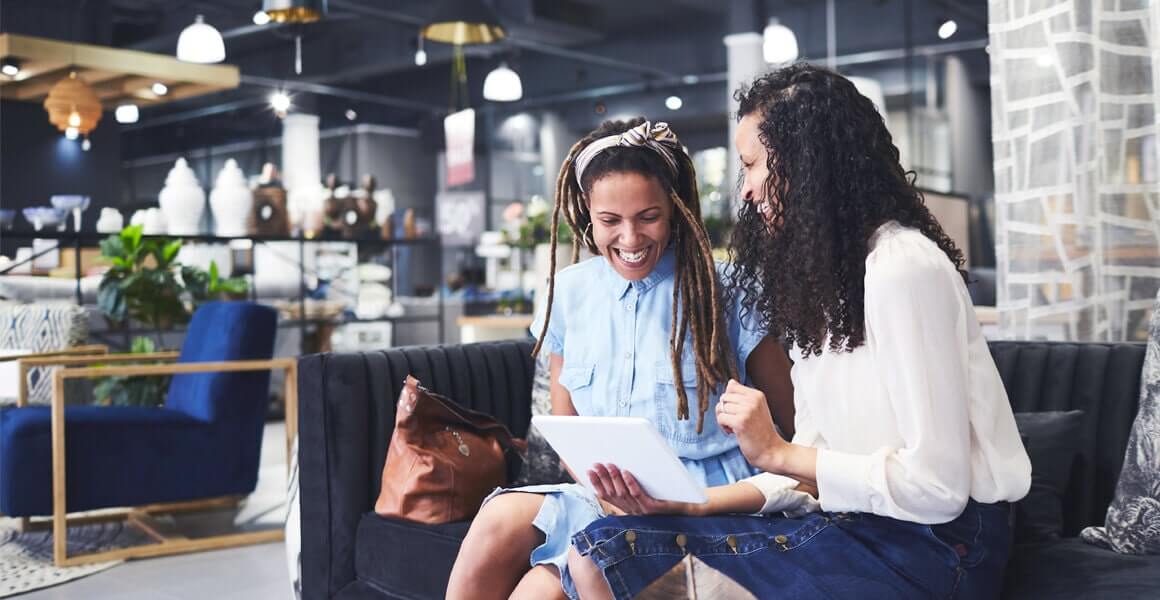 Customer expectations are at an all-time high. Shoppers in the habit of buying on-demand from a wide selection of products online now expect the same experience when buying in-store. How can retailers be sure to deliver a great in-person purchasing experience?
88

%
of customers say the experience a company provides is as important as its products or services.
[1]
It's a challenge amid surging demand and ongoing supply chain problems. But businesses continue to rise to the occasion by optimizing, innovating and helping change the world of retail as we know it.
One such solution might be "endless aisles," a growing trend that intelligently combines the best of online and offline stores to serve customers in a better way.
What Is an Endless Aisle?
Just as the name implies, the endless aisle presents consumers with access to a full product selection that doesn't physically exist within the confines of the actual store.
As customers are walking the aisles, they're able to browse items that aren't physically there. Using self-service kiosks or with the help of a sales associate, shoppers can purchase out-of-stock items, for example. Or they can see a sample product in-store and have the size and color they need shipped directly to them.
The aim is to blend online selection with a brick-and-mortar experience to the satisfaction of the consumer and the business.
20

%
By 2025, organizations offering a unified commerce experience by frictionlessly moving customers through journeys will see at least a 20% uplift in total revenue.
[2]
The Benefits of an Endless Aisle Approach
Offering endless aisle service can have a positive impact on several areas that are increasingly critical to a retailer's success:
Hold Less Inventory
With endless aisles, retailers can sell a wider assortment without having to hold inventory for every product. Keep stock in the warehouse, across other store locations, or use third-party fulfillment centers. Yet shoppers will have easy access to the whole selection.
Enhance Customer Experience
Stockouts are frustrating for everyone involved, and may result in the potential loss of a sale to a competitor. An endless aisle can help save that revenue, ensuring each customer gets exactly what they want out of their visit. Whether with their in-store purchase or with an email of an online order confirmation, they can leave happy.
Reduce Online Returns
E-commerce sees a larger number of returns than brick-and-mortar retail. For example, shoppers may order several sizes of clothing to see what fits and return the rest. They may feel an item isn't quite what they expected when it arrives. Shopping online in the store and with the help of an associate can help mitigate the potential for returns.
The Challenge of Endless Aisle Retail
Alas, these benefits are only achievable if you can tackle the biggest challenge of an endless aisle strategy:
keeping track of inventory
. Ideally, that needs to happen in real time. To process in-store orders, everyone must have a clear and current look at sales and inventory data across store locations, warehouses and the online store.
How to Apply an Endless Aisle Strategy
If a business is eager for the benefits, and up to the task of real-time
inventory management
, there are several ways to put endless aisles into practice. Popular strategies include:
Order Fulfillment
Also referred to as drop shipping, this model gives sales associates access to third-party suppliers. They can order items for shoppers in-store and ship directly to them.
Third-party fulfillment gives a retailer access to a lot more inventory without having to warehouse it themselves, but it can be more complex to navigate that partnership.
Self-Serve Experience
Some endless aisle retailers opt to provide interactive kiosks for shoppers, which can act as a virtual extension of the literal store shelf. If customers don't see what they need or want to compare options, they can do so right on the kiosk screen and place an order themselves without the help of an associate.
Showrooming
This model uses the physical retail space to create an experience rather than attempting to stock a full selection of products in that space. Customers can browse and interact with merchandise, compare models, and work with a sales associate to place an order.
A showroom order can be assembled on a mobile device, making the experience even more convenient for consumers. And for the retailer, this tactic presents more cross-sell and upsell opportunities without having to find a place in-store for all those items.
Key Takeaway
For retailers striving to navigate supply chain challenges and keep up with customer demand, implementing an endless aisle is one way to achieve success.
Not every approach will work for every business, but the strategies here offer examples of how you can merge digital and physical to provide a seamless experience, wider selection, and faster service—all valuable assets that today's customers want.