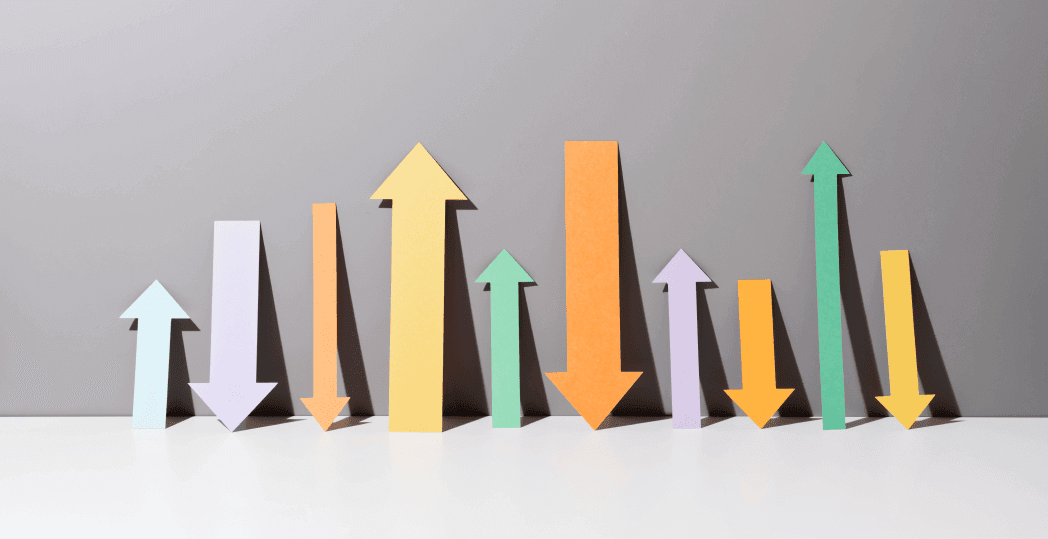 Today's businesses are facing an unpredictable market. With a shifting economy, tighter regulations and changing customer preferences all affecting the industry in recent years, businesses are looking for ways to adapt. Focusing more on direct mail marketing can help maintain a consistent return on investment (ROI) during times of uncertainty.
In fact, direct mail campaigns incorporating standard letter-sized mail had a 112% average ROI when sent out to prospects—higher than SMS texts (at 102%), email (at 93%) and paid search (at 88%).[1]
Has industry instability affected your marketing efforts?
There's no way to fully avoid the inherent uncertainty of the modern-day marketing and supply chain spheres. But with careful planning and innovative use of direct mail, companies can mitigate risks, ease costs, and create successful campaigns that not only maintain but improve ROI.
5 Tips for Long-Term Success With Direct Mail Marketing
The cost of digital marketing is on the rise, with businesses facing higher prices and increased pressure to convert.[2] But direct mail can still provide a reliable return on investment while offering customers a uniquely tangible experience—a welcome novelty in the age of digital. Following a few best practices can help ensure success:
1. Plan Ahead
Rising costs, inventory scarcity and various supply chain issues can all contribute to delays in campaign launches. To help ensure your direct mail marketing efforts are released on schedule, it's important to plan ahead. Let vendors know well in advance what products you require, and keep a detailed schedule of upcoming campaigns and major milestones. If you're looking to save on paper costs, explore options for lighter-weight materials that still meet USPS requirements.
Maintain close communication with colleagues and partners to keep things moving, and be sure to build delays into your schedule to create more realistic timelines. Pro Tip:

2. Reduce Waste
Increasing efficiencies can help ensure your campaigns reach the right people and your mailpieces don't go to waste. Even simple steps like regularly updating your mailing lists can go a long way. With approximately one in six families moving every year,[3] ensuring address accuracy is imperative. You can double-check ZIP Code™ information using the USPS® ZIP Code lookup tool.
No matter how much you prepare, some undeliverable mail is inevitable. The free Pro Tip:USPS BlueEarth® Secure Destruction service can intercept any of your brand's undeliverable First-Class® mailpieces, then securely destroy them and recycle them—saving you both time and money.

3. Automate Campaigns
Automated marketing can streamline campaigns, helping you connect with the customers most likely to convert while keeping your marketing costs down. Retargeted direct mail, for example, allows you to send out mail automatically after a customer takes a specific action on one of your digital channels. Many brands use this to follow up with customers who left items in their online shopping carts, helping to move them closer toward a purchase.
Make it easy for customers to act on your mailpieces using omnichannel innovations. If you're sending postcards reminding customers of the items in their abandoned online carts, for instance, a smartphone-scannable QR Code Pro Tip:[4] can lead them right back to those specific products.

4. Dig Into the Data
Take advantage of the data at your disposal to create highly targeted, cost-efficient marketing. By analyzing customer data, you can better determine which demographics are responding to your campaigns, then use this information to shape future marketing, make the most of your budget and increase the chances of customers making a purchase.
Gather data from all channels—social media, websites, emails, direct mail, reviews, and more. How do customers discuss your brand on social? What questions come up most often? Which promotions have been successful? All of this information can help you create mail that grabs customers' attention and spurs engagement. Pro Tip:

5. Remain Flexible
During times of disruption, flexibility is key. Ordering inventory and campaign materials weeks ahead of time and mapping out key campaigns in advance can help avoid major issues. But you may still need to be ready with other options if things don't go according to plan. Always be prepared to work with your carriers and vendors to find an alternative that makes sense for your needs.
When adapting campaigns to a shifting environment, always adjust according to customer needs. Remaining rigid in the type of campaign or product you're offering can hold you back, but defining your brand based on customer needs allows you to adapt quickly, remain relevant and maintain loyalty—all while improving ROI. Pro Tip:
Key Takeaway
With the supply chain in a constant state of flux and marketing costs on the rise, businesses are making changes—big and small—to create more efficient, streamlined campaigns.
Even amid uncertainty and disruption, direct mail remains a reliable, cost-effective marketing medium—allowing marketers to create integrated, easily trackable omnichannel campaigns that encourage customers to act. Taking a few simple steps to prepare for the future, from automating marketing to reducing waste, can help protect your bottom line—for today, tomorrow and beyond.